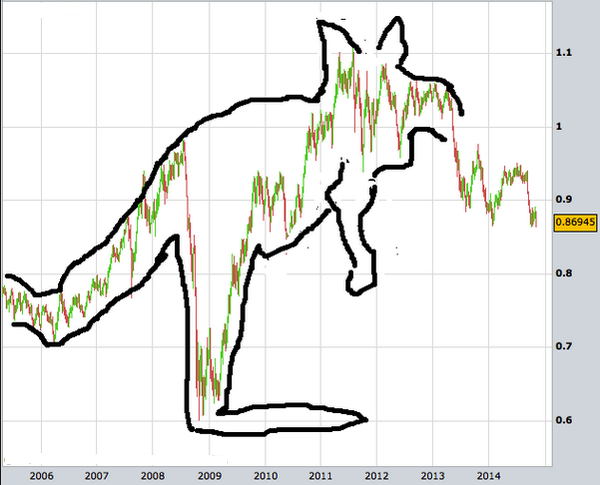 You Can't Eat Everything That Flies. Chose Your Indicators Carefully
You know the internet is full of forex strategies and indicators. Thousands I would say. I have seen most of them during my 10+ years in this business and I have tried quite a few of them, particularly in the beginning since I was trying to figure out which indicators and strategies worked best.
To be honest, the majority of them 95%-99% are rubbish. You see all sorts of lines, pictures and images drawn on charts which make them unreadable. So, I have been banging the drums for some time, don't get confused with all sorts of indicators, stick to the simplest ones, the ones that everyone sees.
These are the indicators that work best. If you are using some exotic indicator that no one watches, then how the hell do you think it will work? If no one watches the bullish gartley, batterfly, pickaboo or whatever silly or fancy name they have, then it will be only you trading it and be damn sure that you can't turn the market around on your own.
We saw the funnies example today. There is this lady trader who posts charts and sometimes she just draws an animal on it just for fun. She draws camels on charts and calls it the vomiting camel, or the vomiting kangaroo for the Aussie, the sitting duck, the middle finger etc.
This is vomiting camel not a real chart pattern
Nor is this kangaroo
But these are not really chart setups or strategies to trade guys. She and other traders just draw these charts to make trading more fun.
Well, guess what. There is always some genius with no sense of humour who takes every joke seriously. There was this guy today who trades Bitcoin and he made a video explaining how the vomiting camel might work for Bitcoin.
That's not a chart pattern so no one is watching it, especially not the big players who have to trade billions every day. Do you think they look around the internet for silly things to trade all that money? No guys, that's why we the smaller players have to stick to the major indicators, such as moving averages, trend, support and resistance and a few other indicators. Again, it's them that work best. The poor guy has apologised by the way, so I'm not posting his picture. He feels embarrassed enough.
The lesson, try to understand the forex market, how it works and what moves it. Don't try to find the Holy Grail in strange indicators and strategies.