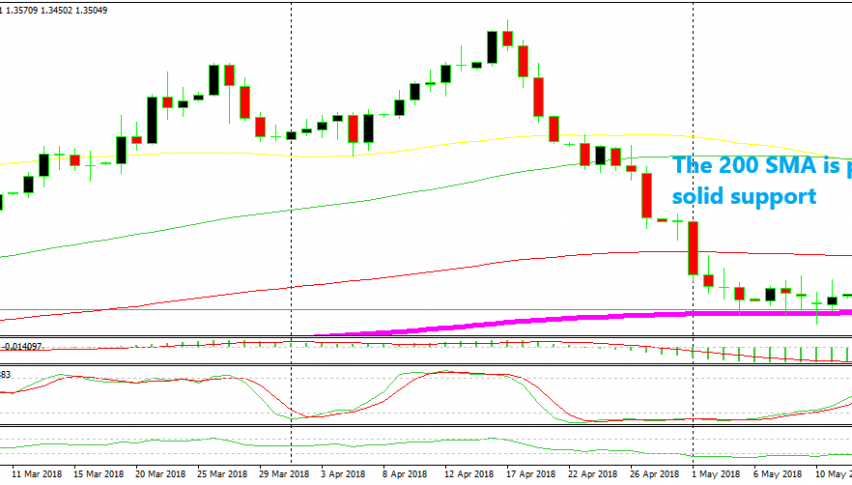 The 200 SMA Ruining Things for Us Again in GBP/USD
If you are a registered member you know that we have a long term sell forex signal in GBP/USD. We opened this signal in the first week of January and mos of the time this forex trade has been in a losing position. Although, GBP/USD made a reverse by the middle of last month and this month we entered the profit zone with this signal.
GBP/USD lost around 200 pips on the first day of May as Brexit fears increased and finally brought this pair below 1.3650. That level has been a long term support and resistance area, so it was great news for sellers like us when it was broken. GBP/USD has remained below it since then, which means that we have been in profit during this month.
That said, the 200 SMA (purple) is giving us a tough time. The price has pierced it a few times, but it has returned back above. Today was the the most flagrant case. The sellers pushed to 1.3450, but the buyers returned and brought this pair back up above the 200 SMA.
This is a USD move though. The Buck climbed around 100 pips across the board but is retracing lower now, which means the GBP/USD is up. So, this is not a GBP/USD move, but it might turn into, especially if the daily candlestick closes where it opened.
GBP/USD has been bouncing inside the range for about two weeks
That means that GBP/USD should climb another 50 pips now, but it's not too much. It has already climbed 60 pips and the H4 candlestick that just closed and formed a doji. That's a reversing signal and the stochastic indicator is oversold on this timeframe, therefore a reverse looks probable.
The bottom of the range seems to be holding for now. So, besides the 200 SMA on the daily chart, we have a bullish reversing pattern forming on the H4 chart. This brings up the question, should we close our signal here manually for a 100 pip profit, more or less or should we trust USD buyers? It's decision time. We will take some time to think about this. If you get an alert, then we have closed the GBP/USD signal.