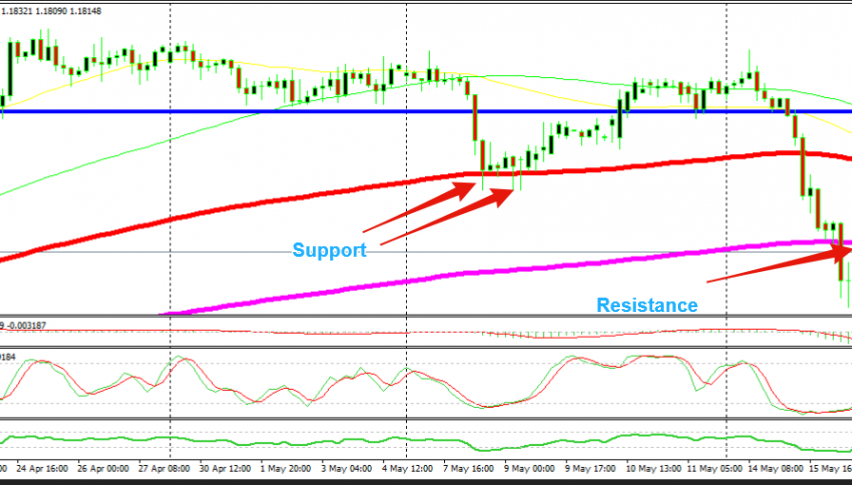 EUR/CHF Setting Itself Up for the Next Leg Down
Failing at 1.20
EUR/CHF has been on a long term uptrend which lasted for more than a year. But, it failed at 1.20 and is reversing down now. It completed the first bearish leg, now it seems as if it will resume the second leg.
The 1.20 level has been a major support area where the Swiss National Bank (SNB) had pegged the Swiss Franc to the Euro. That level was broken with a big bang three years ago and it has now turned into a major resistance area. I say area because these major support and resistance levels have a buffer zone around them. 1.20 was breached by five pips this time, but that doesn't count as a break, so the level remains.
By the way, this is not a safe haven move. The JPY is getting kicked in the behind while Gold has broken below the $1,300 level this week for the first time since the New Year. So, it was all a technical move which came after the failure to break the 1.20 level.
The Reverse
As we know, these moves happen in waves. The first bearish wave took place last week and it ended at the 100 SMA (red). The second bearish wave unfolded this week and EUR/CHF broke the 100 SMA and the 200 SMA (purple). This pair has been retracing up since yesterday afternoon and now we find it having difficulties at the 200 SMA. Moving averages, once broken to the downside, turn into resistance.
The resistance provided by the 200 SMA is much clearer here
Now, this moving average has turned into resistance and the price has formed a few bearish candlesticks, such as hammers and dojis. The stochastic indicator is also almost overbought. This means that the pullback higher is almost complete. We could open a sell forex signal here, but I would like to see the price a bit higher, around 10 or 15 pips which would give us a better risk/reward ratio.
The USD is feeling weak again as jobless claims came above expectations, confirming that the employment sector is feeling the pressure
2 months ago
Today the situation has reversed completely as Credit Suisse is showing difficulties, which has hurt risk sentiment
3 months ago