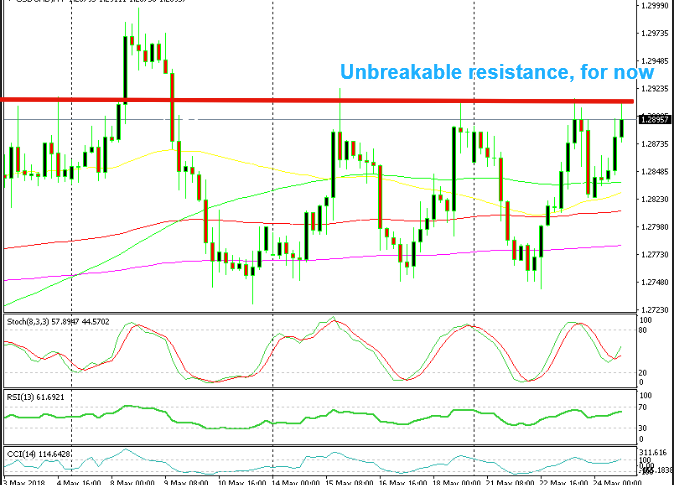 Anyone Could Have Made A Lot of Pips Trading This Level in USD/CAD
There is this important level in USD/CAD which has been providing resistance to this pair for about a month. It is not a big level, it's just that this pair has formed a resistance up there and the market has been respecting it strictly.
That resistance level stands at 1.2920s. It has reversed the price back down several times in the last two weeks and it has done so at the end of April and the beginning of May as well. It has only been broken once three weeks ago but the other big level at 1.30 reversed the price on that occasion.
We made some nice pips 4-5 weeks back selling around 1.29. We could have made a lot more in the last two weeks, but the climbs have been pretty ferocious, so that has scared us. If the price surges nearly 200 pips in a day then you'd normally think that the resistance level will likely be broken without much hassle.
But every time, the price has reversed immediately after touching the 1.1920 level. The same thing happened just now. USD/CAD was surging as Oil was diving, but the surge stopped right at 1.20, exactly to the pip. Now the price has slipped back below 1.29.
Trump's tariffs on imported cars went against the CAD today apart from falling Oil prices but this level resisted. This means that it is a really strong resistance area. We're still close to it, but I'm still scared to go short on USD/CAD right now. Every time we get up here, I think "this is the time this resistance level will be broken". You know, when you lose too many chances and decide to take one short, that's when you get burned. So, I'm not selling now. But, that's a trade idea for you if your money management rules allow it.