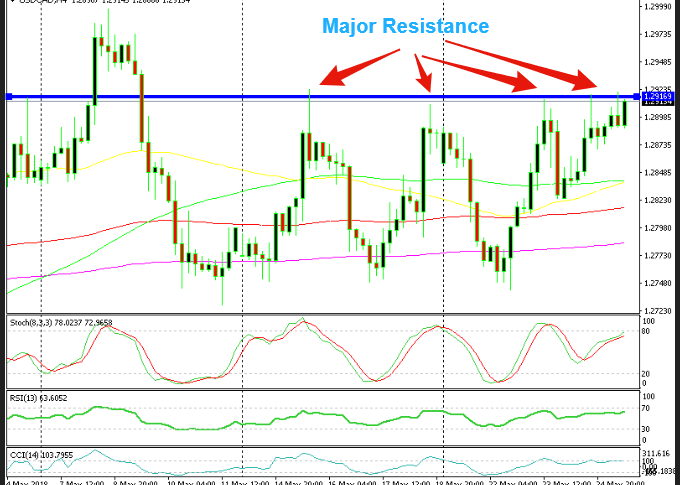 USD/CAD Back at This Level. Time to Go Now
Yesterday, I posted a piece on USD/CAD. The price was pulling back lower after trading at 1.2920. The area around 1.2920 has been a major resistance level for about a month, apart from the time when the buyers pushed to 1.30 where they failed and gave up.
So, the area around 1.2920 has been the target for the buyers for quite a long time. But, they have failed at 1.2920 every time. The failures have been really embarrassing, particularly in the last two weeks. The climbs have been so quick and pretty big, but when the price has got close to 1.2920, the buying has suddenly stopped and everything has reversed.
When I posted the forex update yesterday, it was evident that the buyers were failing to break above this level once more. The price was slipping back lower and it had already dived below 1.29.
Today though, it seems as the break is coming. The buyers didn't wait until we reached 1.2740-50 as it has done during the last two weeks. They returned pretty quickly this time and now we are just below this major level.
So, it seems like the time has come. Oil prices have been tumbling, especially in the last hour. Crude Oil has lost more than $1 during this time and that is weighing on the Canadian Dollar since the CAD is positively correlated to Oil prices.
Although, if Oil prices start reversing back up now USD/CAD might reverse down which would be another failure to break 1.2920. That would be a good opportunity to sell this pair. But, the current price action in Oil and USD/CAD tells us that the break is coming. So, let's wait a bit longer to see what this forex pair wants to do.