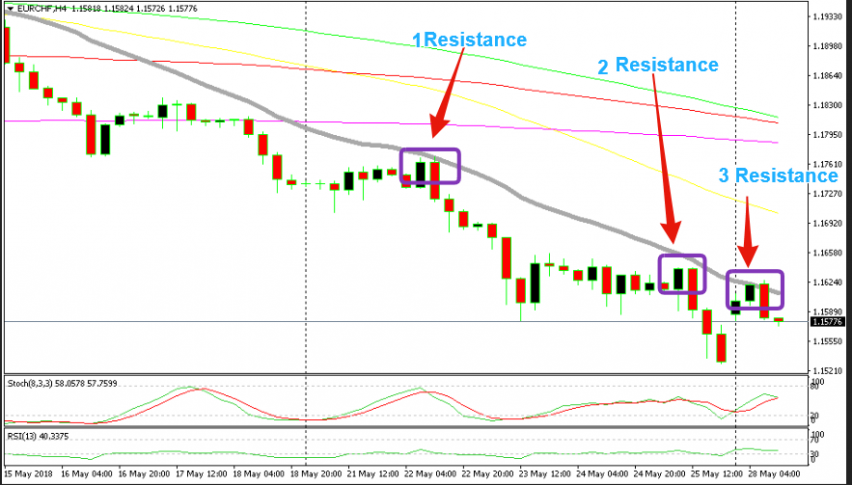 EUR/CHF Bounces Up but Finds It Hard to Overcome the 20 SMA
The market sentiment improved somewhat last night as the two "supreme leaders" of North Korea and US are flirting with each other again. EUR/CHF opened with a 55 pip gap higher and it kept climbing during the Tokyo trading session, claiming back 100 pips in total.
Risk currencies such as the Euro tend to climb higher when the sentiment improves, while safe haven assets have a tough time, hence the 100 pip jump in EUR/CHF. My colleague Arslan briefly covered Trump's tweets earlier this morning.
EUR/CHF was feeling pretty good because of this, until a couple of hours ago. It was moving higher undistrurbed on the H1 chart, but something important was waiting at 1.1620s on the H4 chart. It was the 20 SMA (grey).
This moving average has been pushing the price lower during the downtrend of the last two weeks in EUR/CHF. It has provided resistance during the retrace higher, so the 20 SMA has been the indicator which has kept the downtrend in place.
It resisted once again this morning. EUR/CHF kissed that moving average and it started reversing back down. Safe havens have changed only slightly in the last few hours, including USD/CHF, so this move is coming from the side of the Euro.
Now, the price is around 30 pips lower, so we might have missed that selling opportunity. Well, we learned one thing from this price action at least, that the sellers remain in control of this pair. With this in mind, if we see EUR/CHF pull back up again to 1.17, then we might be persuaded to sell up there.
The USD is feeling weak again as jobless claims came above expectations, confirming that the employment sector is feeling the pressure
2 months ago
Today the situation has reversed completely as Credit Suisse is showing difficulties, which has hurt risk sentiment
3 months ago