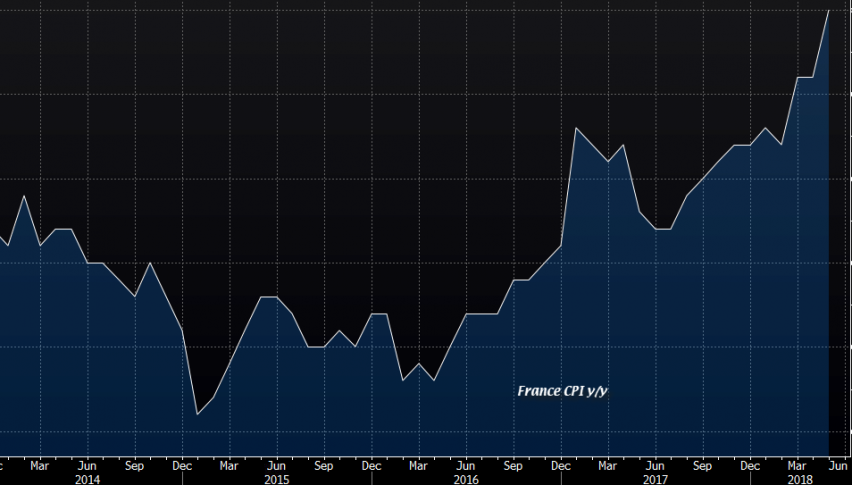 Inflation Ticks Up in Europe
Yesterday we saw the German CPI (consumer price index) inflation move higher nicely. Last month, the CPI inflation was unchanged at 0%, while this time it was expected at 0.3% it came at 0.5% which is a considerable jump on a monthly basis.
The French inflation also came out much better this month. Last month came at 0.1%, although it was revised higher at 0.2% which is positive. Today, the CPI came at 0.4%, a tick above expectations.
One of the main things that Europe has been suffering from since the financial crisis a decade ago has been low inflation. Germans love low inflation but in the real world, some inflation is good. So, this is a good sign and the European Central Bank should welcome these recent inflation numbers.
Later this morning, the Eurozone inflation report will be published. The yearly CPI number is expected to come up at 1.6%, a solid jump from last month's 1.2%. The core CPI number is expected at 1.0%, up from 0.7% in the previous month. So, it looks like inflation is picking up nicely in Europe.
Low inflation has been a headache for many major central banks, except in the UK and recently in Turkey. The Turkish Lira has taken a hit lately so I expect inflation to surge soon, if it hasn't already. I did say that some inflation is good, but not too much, otherwise it will kill you, same as with too much of everything else.   
Anyhow, the Eurozone has been suffering from low inflation as mentioned, and now inflation seems to be on the right path to reach the 2% target set by the ECB. This is a positive thing for the Euro but the market sentiment is still dominating the markets. The Eurozone inflation is coming up soon, so let's see where it stands right now. I expect some decent numbers though.