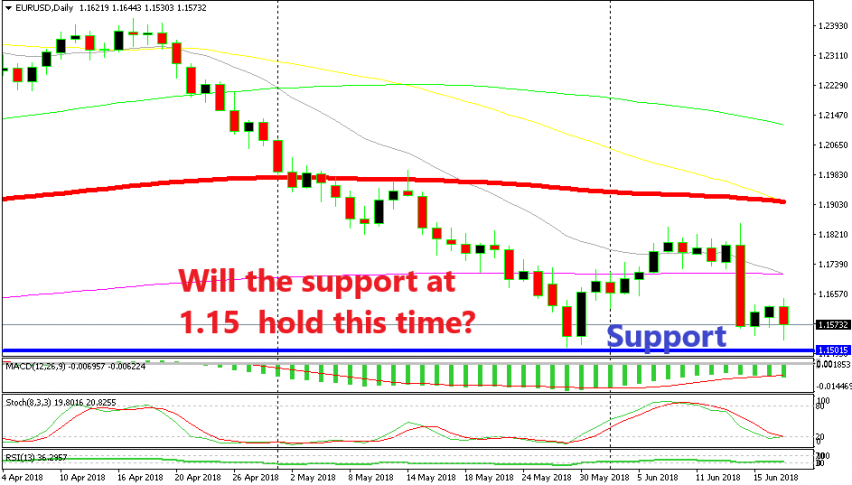 EUR/USD returns to Face Major Support at 1.15
EUR/USD entered a major bearish phase about two months ago. This pair had been on a strong uptrend for more than a year, but the fundamentals changed and EUR/USD tumbled nearly 10 cents lower. In my opinion, the 1.24-25 level was a bit high considering where the FED stands with rate hike and where the ECB stands.
The area around 1.15 has been a strong support and resistance level. EUR/USD bounced off it last month and it climbed as high as 1.1850. I thought that this retrace higher would reach 1.20, but stochastic became overbought, which meant that the retrace was complete.The European Central Bank (ECB) also helped with their dovish comments on rate hikes.
So, we saw this pair return back down and now it is facing the 1.15 level once again. As we said, major levels come with a buffer zone around them, so expect bids to stretch from around 1.1480 up to 1.1820-30.
Today the price reached 1.1530 on my platform where it stopped. Since then, the price has been retracing higher on the H1 chart, but this move up looks pretty weak to me. So, I expect EUR/USD to return down again and resume the downtrend after stochastic becomes overbought on the hourly chart, probably breaking 1.15 as well.
Just look at the stochastic on the H1 chart and follow the price action when stochastic becomes overbought. If the buyers become really weak, then the downtrend should resume soon.