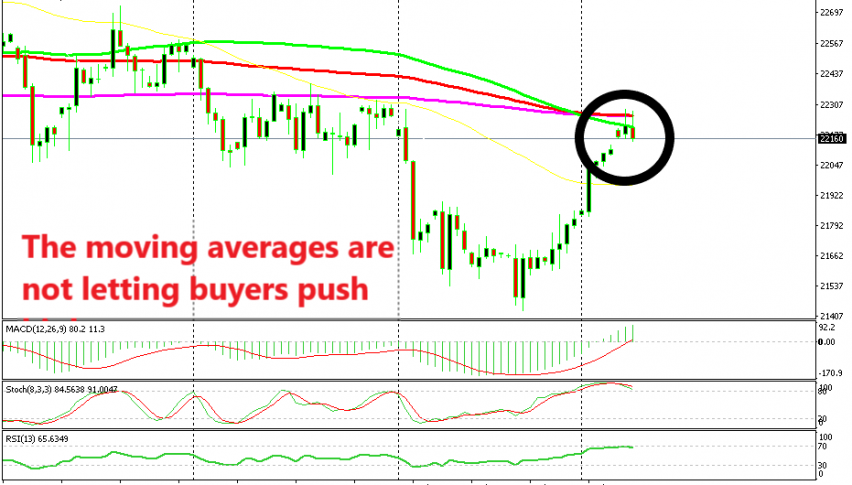 Nikkei Forming A Bearish Reversing Setup After A Strong Bullish Trend
Nikkei and other indices have been trending higher in the last several days. Nikkei 225 was falling pretty quickly in the second half of last month and earlier this month, but last Thursday the price formed a big doji on the daily chart. The doji is a reversing signal and Nikkei did reverse.
It has climbed up more than 800 points during this time, although it hasn't been just Nikkei. All major indices have been climbing higher, following a steep bullish trend.
But after such a steep uptrend, Nikkei has now reached an area where a number of moving averages are congested. As you can see, the 100 and the 200 SMAs are standing just above the current price and it seems as they are protecting the 22,300 level.
The area around this level used to be strong resistance. It turned into resistance after it was broken two weeks ago and it never let go the entire week. The 200 SMA (purple) also helped a lot as it capped all the moves. Eventually, the bulls gave up and the bears took control.
Now we are back up here at this level. We have three moving averages providing resistance at the same level and the previous candlestick looked sort of bearish. The current candlestick looks even more bearish since it looks like a bearish upside down hammer. That is another strong reversing signal, but it hasn't closed yet, so we have to wait for a confirmation and we must let it close.
Overall, it seems like the indices are about to turn bearish. So, judging purely from a technical point of view, we think that Nikkei will turn bearish now and probably form a retrace lower before the next assault higher.