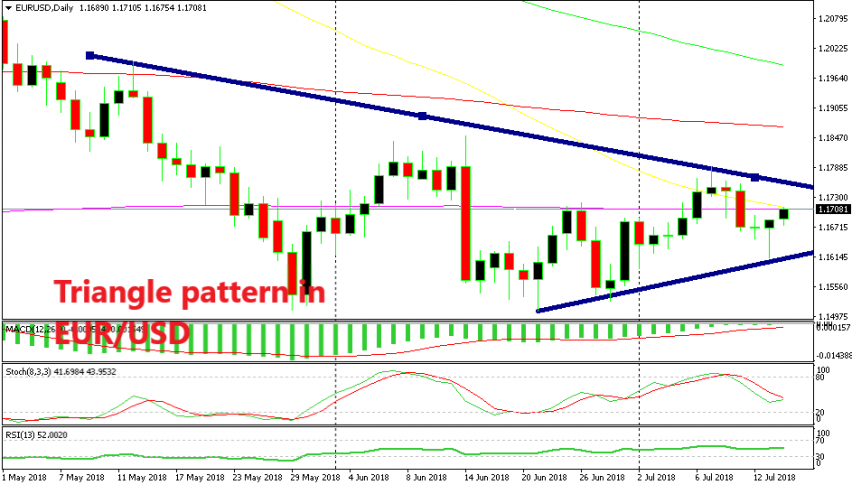 EUR/USD Trying to Make Its Mind Inside A Triangle
EUR/USD has completed a major bearish move which took place in April and June, losing around 10 cents during that period. Although, the downtrend stopped and in the last two months we have seen this forex pair move sideways.
Most of the action here has been coming from the USD side. If you look at the USD index daily chart, you can see that in the last two months the USDX has traded sideways. Last Friday, the Dollar index tried the upside but it failed to break the resistance at around 95 points.
Similarly, EUR/USD tied the downside but reversed higher when the USD started turning lower. As a result, the daily candlestick closed as a hammer. The hammer is a reversing signal after the small downtrend last week, so today we are seeing this pair climb higher.
Right now, the buyers are trying to overcome the 50 SMA (yellow), although, there is another indicator which is being targeted by the buyers. That is the top line of the triangle. EUR/USD has formed a triangle which is getting narrower.
So, while the candlestick pattern points up, there isn't much room to the upside, according to the triangle pattern. The top line comes at 1.1750-60, so EUR/USD has room to run 50 pips higher if the buyers remain in charge. When EUR/USD reaches the top line of the triangle, then we will have another look at this pair, because it might be a great opportunity to go short here.