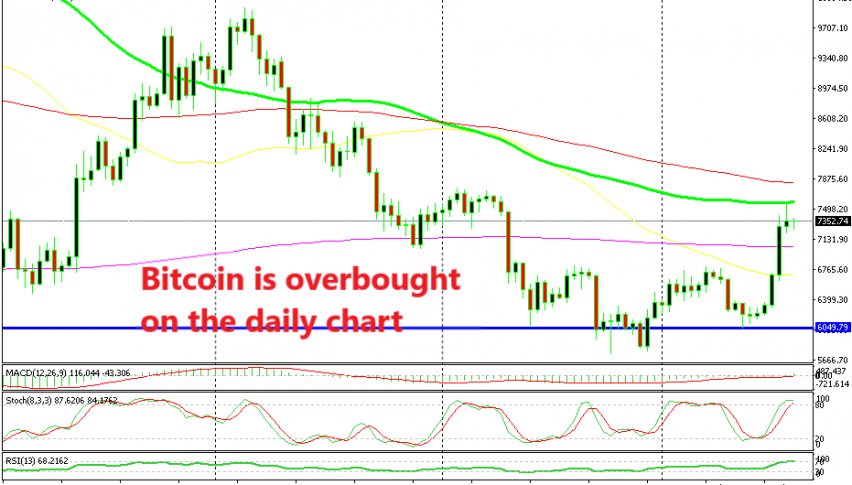 Is This the End of the Bullish Run in Bitcoin?
Cryptocurrencies started reversing at the end of last week and once the new week started, the reverse took shape. Cryptos entered a bullish trend and Bitcoin took the lead. At first, I was doubtful about this bearish move because cryptocurrencies have been on a steep downtrend for many months now and all retraces have been pretty shallow.
But the buyers kept pushing higher and Bitcoin climbed around $1,500. Apart from the technical reason since cryptocurrencies were severely oversold, the bullish move was mainly due to BlackRock's plan to get involved with digital currencies as part of its investment strategy.
So, cryptocurrencies have been retracing higher but they reached certain levels where the move seems to be exhausted. Ethereum reached the 200 SMA yesterday which has provided support and resistance before and formed a bearish candlestick. That's a bearish sign.
Bitcoin reached the 100 SMA (yellow) yesterday, but it started pulling back lower and closed the daily candlestick as a doji or a small hammer if you want to call it that. Yesterday's chart setup in Bitcoin offers us two bearish signals.
The first bearish signal is the fact that the buyers couldn't push above the 100 SMA. This moving average has provided support and resistance back in January and February this year and it might turn into a strong resistance level again now.
The second bearish signal comes from yesterday´s candlestick. Dojis and hammers are reversing signals after a bullish move. The bullish move seems complete now that stochastic is overbought on the daily chart, so it might as well be over now and a bearish move might follow. The technical analysis points down now and I would have gone short by now, but the fundamentals are still on the side of the buyers, so both sides are open. I still favour the downside though.