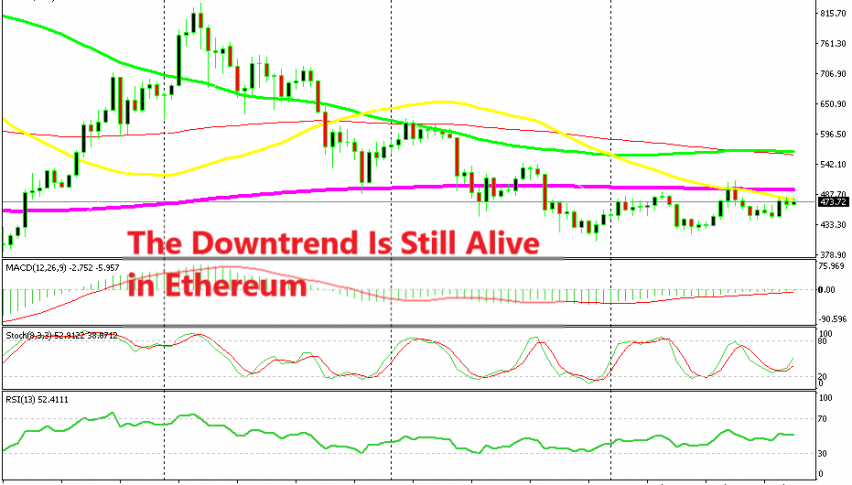 Ethereum Continues the Bearish Trend Despite Bullish Bitcoin. Is This the Beginning of a Divergence in Cryptos?
Bitcoin has made a bullish reversal as we have often highlighted in the last two weeks. But, the downtrend in Ethereum remains stubborn. Bitcoin and Ethereum have been going hand in hand as most major cryptocurrencies but now Ethereum is not keeping up with Bitcoin's pace. Could this be the beginning of the divergence between these two major cryptos? After all, cryptocurrencies can't go on forever with such close correlation. If they have to be broadly accepted as cash, then they all must stand on their own feet, otherwise, they wouldn't be considered as normal currencies, which is the main goal.
As you can see from the daily chart above, Ethereum has been trading on a steady downtrend. The downtrend has been defined by moving averages. At first, it was the 100 SMA (green) which kept pushing Ethereum down at the beginning of June. This moving average was providing support in May, but turned into resistance once the price slipped below it.
Then, it was the turn for the 200 SMA (purple) to provide support. It did so twice this month, keeping the price below it. Now, the 50 SMA (yellow) has caught up with the price and it is doing all the hard work. The buyers made a respectable attempt on Tuesday, but it stopped right at the 50 SMA. Yesterday the price formed a doji candlestick, while today we are seeing an upside-down hammer being formed.
The downtrend in Bitcoin is over on the daily chart
These are both reversing signals after the retrace higher. The retrace is not complete since stochastic is not overbought and is still heading up. But, the 50 SMA is not letting go. So according to this sort of price action, Ethereum might as well return lower in the coming days and resume the bearish trend.
Bitcoin has failed to break the $8,400-500 level yesterday, so the upside has lost pace in this altcoin. But, as you can see from the daily chart above, Bitcoin has broken all moving averages in this timeframe and it has made new highs. It has moved above this month's and last month's highs which is a strong sign that the trend might be turning bullish.
We can't say the same about Ethereum though. The recent high in Ethereum is still lower than all the other highs that this altcoin has made during the previous pullbacks. All moving averages also remain above the price, so we can't call a trend reversal in Ethereum yet. At the moment, Ethereum remain strongly bearish and it is diverging with Bitcoin indeed.