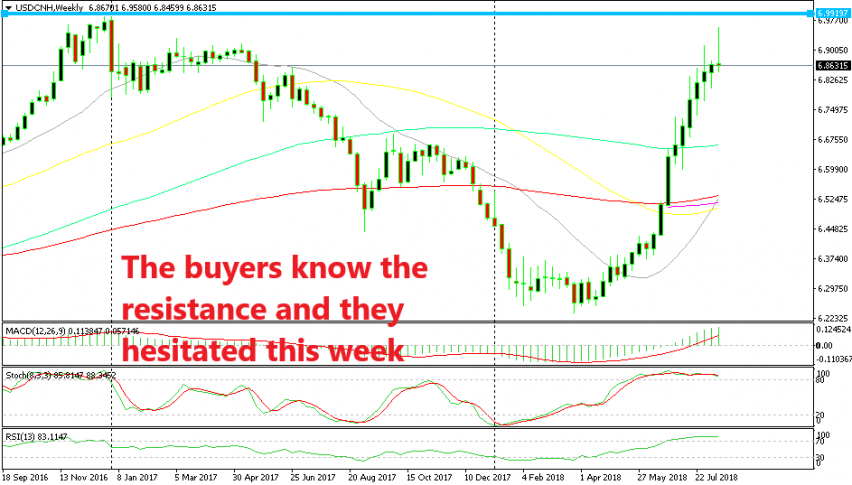 USD/CHN Heads for the Highs but Retreats, for Now
At the beginning of last year, USD/CHN was trading at the highs near 7 Yuan for a US Dollar. But, it reversed right below that major level and last year the trend has been bearish. Although, this year the trend has reversed and this pair has been pretty bullish as the Yuan continues to weaken.
The US started a trade war earlier this year and one of the ways the Chinese are responding is by weakening the Yuan. So, USD/CHN has been on a strong bullish trend this year, claiming all the losses from last year. USD/CHN has gained more than 10% since early spring.
It is heading for the highs as it continues to climb. The highs are at 7 as we mentioned above, which should be a strong resistance level. As you can see on the weekly chart above, this forex pair got pretty close to the highs, posting 0.9580 on my platform.
The 20 SMA is providing support again to USD/CHN
But, yesterday was a pretty bearish day, the biggest bearish day in more than six months. Perhaps, the rumours for a US-China meeting later this month eased some of the worries regarding the escalating trade war. As a result, the weekly candlestick points to a bearish reversal since it looks like an upside down hammer. But, there is still time until the end of the day today, which will be the end of the week as well, so we will see how this week closes.
On the daily chart though, the price has retraced back lower but it has found the 20 SMA (grey). This moving average has defined the trend in the last several months as it keeps pushing the price up.  This might b a good place to buy technically if you want to trade it, but fundamentals keep messing with this pair so be careful.