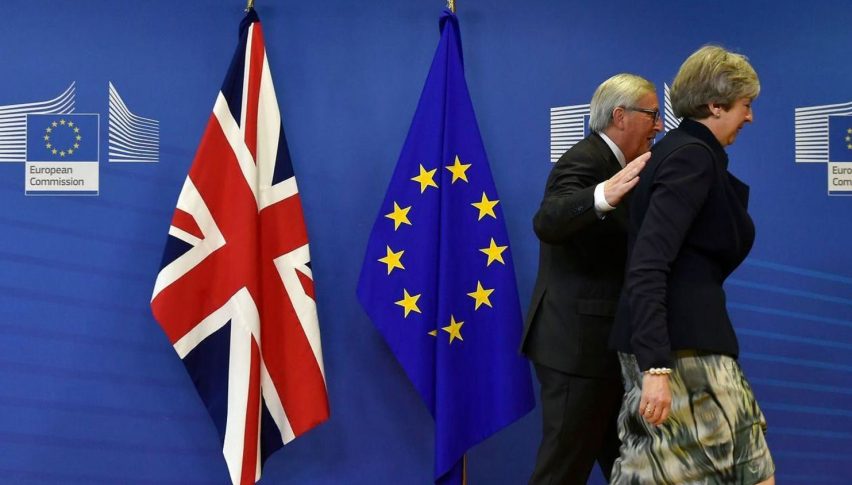 Forex Signals US Session Brief, August 31 – So Long for A Good Brexit Deal
On Wednesday, we heard some surprising comments from the EU's chief Brexit negotiator Michel Barnier. He has been quite tough on UK regarding demands for a Brexit deal and, as time passed, it looked increasingly like Britain would end up with no Brexit deal at all. But, he made a 180 degree turnaround on Wednesday saying that the EU is willing to give the UK a deal like no other third country has with the EU. But today, we heard the EU spokesperson say that the EU won't back down regarding the Irish border. UK's Raab and Barnier are meeting today in UK and the comments aren't promising at all. So it seems that we're back where we were before Wednesday.
On other fronts, Italian officials said that they might exceed the 3% budget deficit to GDP ratio. But, they have to present that to the EU first so we will see how that goes through. Although, Italy seriously needs some investment in infrastructure. The bridge collapse in Genoa was a good example. Today was inflation day for Europe and it ticked lower but that wasn't a big surprise given the weak inflation numbers from Germany yesterday.
The European Session
French CPI MoM – CPI (consumer price index) inflation increased by 0.5% in France this month against 0.4% expected and the annualized number also moved higher to 2.3% from 2.2% previously. Although, that didn't help improve the Eurozone inflation report today.
Trade Ceasefire with the US to Continue for Juncker – The European Commission President Juncker commented this morning that he expects the ceasefire to be upheld regarding a possible trade war with the US. But he added that if Trump's administration increases tariffs on cars, then the EU will retaliate.
China Says Putting Pressure on Trade Won't Work – The Chinese Foreign Ministry said that pressure from the US won't work on China. This comes after Donald Trump and his administration have refused to negotiate with China seriously. China was begging for some negotiations with the US but now it is getting back to its battle position as the date for new tariffs approaches.
German Retail Sales – Retail sales took another dive in Germany this month as they fell by 0.4% against -0.1% expected. Last month was revised lower as well, although this is a very volatile indicator.
Eurozone Inflation – Inflation has been increasing considerably in Europe this year but today it slipped a tick lower to 2.0% from 2.1% previously. The core inflation also slipped to 1.0% from 1.1%. The Euro didn't notice that at first, but it has turned bearish now.
Barnier Represents the View of 27 Countries for France – The French Minister of European Affairs said today that Barnier represents the view of all 27 EU member states. Which view is it then: that the EU is willing to offer the UK a great deal like no other third country which we heard on Wednesday, or that without a proper Irish border solution and a Brexit plan from the UK no deal will be in place? I didn't see these comments earlier but there goes another obstacle for a good Brexit deal.
Exchange Rate Has Turned Into An Exchange Bullet for Erdogan – That is what Turkey's President Erdogan said and he added that there is a FX instability operation taking place in Turkey. USD/TRY is lower today after the central bank of Turkey made it more difficult to hold forex reserves, but these are only temporary measures, and they won't stop the decline in the long term.
Eurozone Unemployment Rate – The unemployment rate fell to 8.2% in the Eurozone this month. Last month was also revised lower to 8.2% from 8.3% previously. A small decline but in the right direction nonetheless.
The US Session
EU's Quest to Avoid a Hard Irish Border Remains Undiminished – These were the words of the EU spokesperson Weinstein and a Brexit deal looks pretty unlikely again now. The GBP started slipping lower after that.
Italian Debt/GDP Ceiling – These were the comments of Italian officials today. It sound worrying for investors and for the Euro, but it is still too early to get carried away. There's still a month time until Italy presents its budget to the EU.
Don't Bet Your House on a NAFTA Deal – Canadian officials said a while ago that negotiations between Canada and the US have turned sour so we shouldn't expect a NAFTA deal by Friday as expected. The comments from the Canadian negotiating side don't look promising, so this is going to be another problem for markets for some time to come.
Raab-Barnier Meeting – The UK Brexit Minister Raab and Michel Barnier met today and Raab said that they have made progress but there's clearly more work to do. These comments don't sound too positive but Barnier made things worse when he said that with no backstop on the Irish border, there will be no deal.
Trump Wants A Trade War with the EU – EU's trade chief Cecilia Malmstrom said yesterday that the EU will drop tariffs on industrial production and cars to zero if the US did the same. But Trump said yesterday that the European consumers have a habit of buying their own cars, not US cars. Well, it's not the European consumer, it's the US cars which are too huge to be driven in Europe. Plus, they consume a lot of fuel and fuel is about twice as expensive in Europe so it is more about the cars actually, but Trump wants a war.
Chicago PMI – The purchasing managers survey in the Chicago area is expected to decline to 63 points from 65.5 points previously. This indicator has been increasing in the last several months but today it is expected to take a bearish turn, but let's see first before making a judgement.
Trades in Sight
Bullish USD/JPY
The main trend is still bullish
This pair is oversold
The 200 SMA is providing support
The previous candlestick is pointing up
The chart setup is pointing to a bullish move soon
USD/JPY has lost more than 100 pips in the last two days, but the main trend is still bullish on the higher timeframe charts, which makes this just a retrace before the next bullish move. The retrace is complete now since stochastic is severely oversold and the 200 SMA (purple) has been providing solid support. The previous candlestick formed a doji which is a reversing signal, so this chart setup is pointing to a bullish reversal and we just went long on this pair.
In Conclusion
After today's events we conclude that the NAFTA deal remains in danger, the Brexit deal looks improbable again and that the trade war between the US and the rest of the world is going to go ahead since that's what Donald Trump wants. As a result, the sentiment has turned negative again for financial markets, so keep that in mind when trading today during the US session guys.