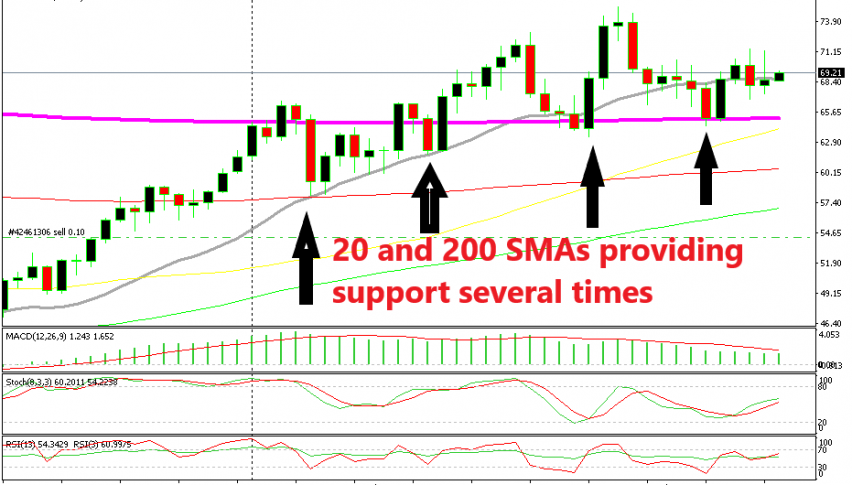 The 3 Best Trading Strategies Combined
There are lots of trading strategies out there. If you search the internet, you will find hundreds of forex strategies, whether they are fundamental or technical strategies. Although, not all of them work well enough to consider using them for trading.
In fact, some almost never work and whenever they do, it is much more likely that it is a coincidence. So, we have to filter them out, or ask experienced traders for some advice. Well, I have been in this business for some time, so I can suggest a few forex strategies that work pretty well.
Moving Averages
Some traders use moving averages as crossovers. They use the crossover of the 5 SMA over the 10 SMA to confirm a change in the trend, or the 10 SMA over the 20 SMA. But I use moving averages as support and resistance during trends as well as during range trading.
In my opinion, moving averages are very good for providing support and resistance during trends. They keep the trends in place, much better than trend lines.
As you can see from the daily AUD/USD chart, the 50 SMA has been doing a very good job in providing resistance in the last two months since mid/July. If you scroll this chart back on your platform, you can see that it has been doing the same even a few months prior. If you only used this technical strategy for trading by selling AUD/USD when the price was close to the 100 SMA you could have made quite a few pips. This strategy is pretty simple, but the simpler the strategies the better they work. Once these moving averages get broken, they turn into support.
They are better than trend lines because moving averages are dynamic, unlike trend lines. This is the simplest way of using moving averages and the best way to do so. The more you complicate it, the harder it is for a strategy to work.
Candlesticks
Candlesticks are another technical indicator which work pretty well if you don't complicate things too much. I use them as reversal indicators because that's their best use. The candlesticks which I use for reversals are the doji, the hammer/reverse hammer and the pin.
Some traders use the bearish/bullish engulfing candlestick formations for reversals, but they are a bit subjective, so I stick to the candlesticks mentioned above to get a reversal signal.
Candlesticks pointing to a bullish reversal
When a financial instrument such as a forex pair is on an uptrend, the best thing is to wait for a retrace lower and wait for a confirmation from a doji, hammer or pin candlestick. If we get a confirmation, from these candlesticks, then there is a high probability that the pair will reverse back up and resume the uptrend.
Some traders might try to sell during an uptrend when they see one of these candlesticks at the top, but going against the trend is pretty dangerous. So, it is safer to wait for a pullback lower before going long. When the pair is oversold, then we can consider buying.
Stochastic
Speaking of oversold, we usually use the stochastic indicator to indicate oversold and overbought levels. In fact, that's what the stochastic indicator is best at – it works even better than the RSI indicator. Again, you can sell a forex pair on an uptrend when stochastic is oversold, but that would be too dangerous. So, we wait for a retrace down and when stochastic becomes oversold, we consider going long.
Three indicators were pointing up before the bullish reversal
This trading strategy works better if you combine it with the other strategies that we mentioned above. So, if we have three of these indicators lining up together, then that is the perfect chart setup. The idea is to wait for a retrace lower on a downtrend, then once the stochastic indicator is oversold on the time frame you are using and the price has formed a doji while a round number moving average (50 SMA, 100 SMA, 200 SMA) is providing support, we buy that pair.