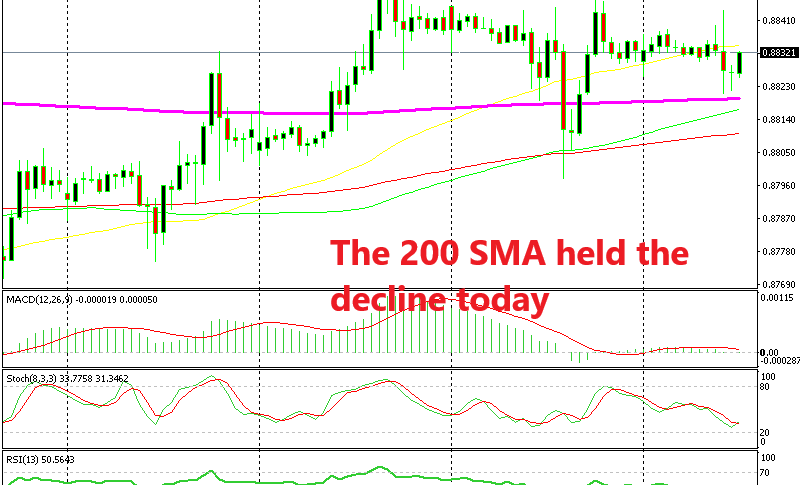 How to Read the Price Action in EUR/GBP
To start this update, we think that the momentum is bullish in EUR/GBP. We have followed the price action of this pair in the last two days and we concluded that the pressure is on the upside for this pair, as we will explain below.
Yesterday we opened a buy forex signal in EUR/GBP as this forex pair retraced lower to the 50 SMA (yellow) on the H1 chart. It approached the take profit target by 1 or 2 pips but it missed it. In fact, the price got close to both targets yesterday.
Although, judging by the price action, we can see that the pressure is on the upside for this forex pair. The sellers tried to reverse the trend twice yesterday and today, but that was due to other factors, because the sentiment is still bullish for EUR/GBP.
The Bullish Sign Yesterday
The first decline which took the price close to the stop loss target came after the EU threw a lifeline to British PM Theresa May. The EU offered a UK-wide customs deal to Theresa May. This came at a difficult period for her since the UK is heading towards a no-deal Brexit and May is close to being voted out of her position.
As a result, the GBP jumped 60 pips higher which sent EUR/GBP diving. EUR/GBP got close to the 50 SMA on the H4 chart but then reversed back up and it recuperated all the losses in a few hours. This shows that this pair is still on an uptrend.
The 50 SMA held the decline yesterday
The Bullish Sign Today
Today, the economic data from the Eurozone was very soft. The German services report and more importantly the manufacturing report missed expectations by a long way. That affected the Eurozone service and manufacturing numbers which also came way below expectations.
Now the Eurozone economy is really showing sign of weakness. So, the Euro took a dive as EUR/USD lost around 70 pips lower. As a result, EUR/GBP dived as well. But again, the decline stopped, this time at the 200 SMA (purple) on the H1 chart.
The previous candlestick formed a doji which is a reversing signal after the bearish move and now EUR/GBP is back on track, trending higher again. Once again, this shows that the momentum is on the upside. The bearish moves in the last two days have come as a result of fundamentals, but even fundamentals can't keep this pair down. So, this is what the price action is telling us and we are deciding to keep our buy signal here.