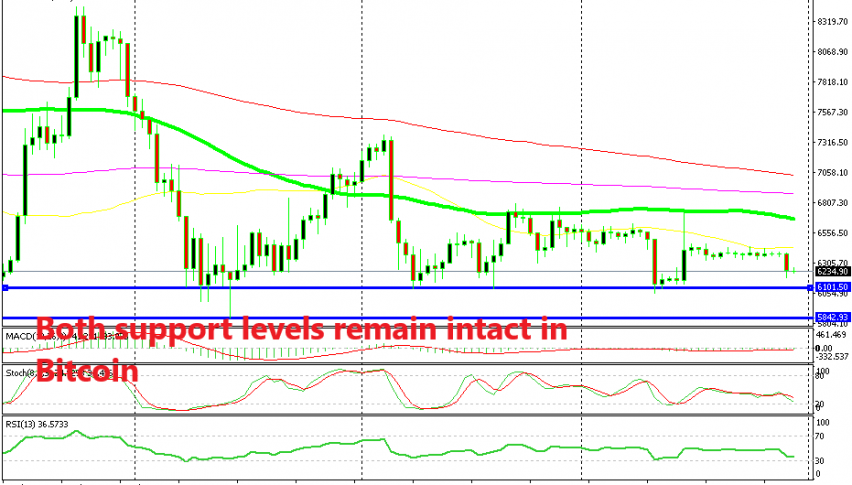 Bitcoin Looks Luring for Buyers
Bitcoin finally made a move yesterday after lingering in a minimal range for about two weeks. This range has been the narrowest for Bitcoin in a very long time, so the move yesterday was a bit of a surprise. Obviously, it was a bearish move.
But, the move was pretty slow compared to what we have previously seen in Bitcoin. So, it didn't take us anywhere important. It didn't push Bitcoin below the support levels at $5,800 and $6,100, which means that these two support levels are still very much alive.For this reason, we are thinking of opening a buy forex signal in Bitcoin. The first support level at $5,800 looks way too far, but we are closer to the second level at $6,100 which I think is going to hold and push Bitcoin back up, although don't expect to see the $10,000 level anytime soon.
The stochastic indicator is almost oversold, so the bearish move should be over soon as well. I would have liked to see Bitcoin slide to $6,100 but the price action has just died after the quick move yesterday. So, we might go long from here and target $6,450 as the first target where we can find the 50 SMA (yellow) which had been providing resistance in the last two weeks. The next target will be the 100 SMA (green) at $6,700.
Signal
Buy Bitcoin     
Entry Price – $6,235-$6,100
Stop Loss – $5,700 (below the lower support area)
Take Profit 1 – $6,450 (50 SMA yellow)
Take Profit 2 – $6,700 (100 SMA green)