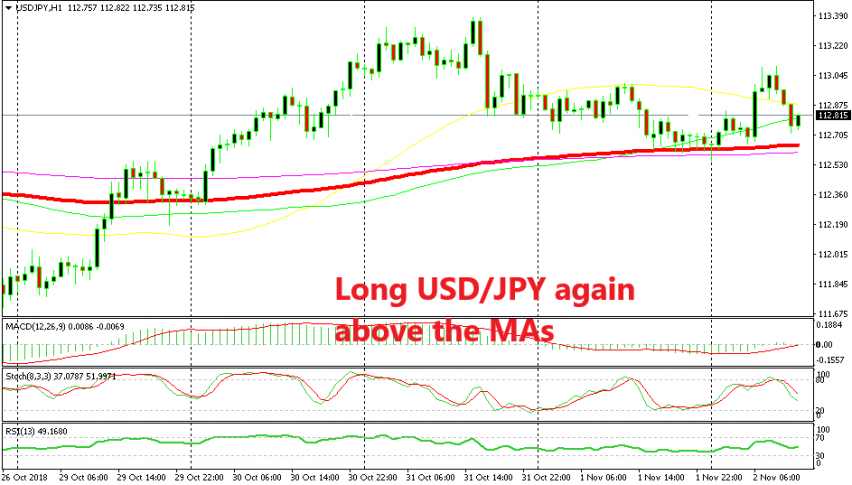 Trying the Long Side on USD/JPY Again Today
USD/JPY has been trading on an uptrend during this week, but it slipped lower on Wednesday afternoon and during most of the day yesterday. We saw that decline as a retrace of the uptrend, so we opened a buy signal, although it was a bit risky as a trade because the US mid-term elections are this weekend and forex traders are trying to get rid of some of their USD reserves before the weekend, just in case Democrats win the Senate.
But, the moving averages which were compressed around 112.50-.60 held the decline and reversed USD/JPY higher during the Asian session today. The stochastic indicator was oversold yesterday when we went long, which mean that the downside was exhausted in this pair.
Today, we find USD/JPY down here again, having made a bearish reversal in the last few hours as the USD selling kicked off again. The moving averages are still below the current price where they were yesterday, so they should scare the sellers and activate the buyers. Although, the 100 SMA (green) has already left and moved higher.
The stochastic indicator is not oversold yet but it is getting there. But judging from the price action of this hour, I can see that the buyers are already jumping in and trying to reverse the price higher. So, here we are, we just bought USD/JPY and now are around 10 pips in profit.