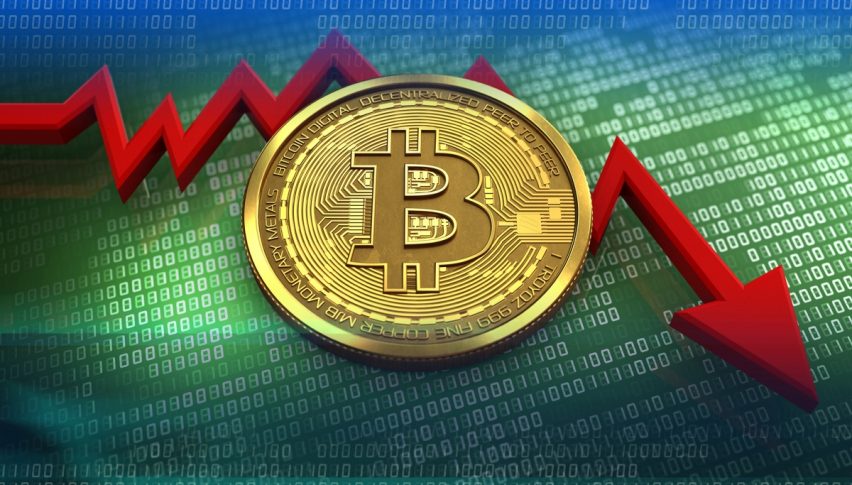 What Caused the Quick Decline in Bitcoin and the Cryptocurrency Market This Week?
The volatility in Bitcoin and other major crytpocurrencies has been diminishing lately. The price action of the last few months has only been a shadow of what we saw late last year and at the beginning of this year, particularly in the last two years. In the last two months since September, the range has been only a few hundred dollars. That was a bit strange and suspicious. Bitcoin had formed a major support zone around the $6,000 level with a buffer area stretching $200 above and below, from $5,800 to $6,200.
But now, Bitcoin has made a relatively big move, losing more than $1,000 in just two days on Wednesday and Thursday. What could be the reason for this sudden decline? Well, there are a few possible reasons, so let's have a look at the options.
Fundamental Reasons
Bitcoin Cash Impending Fork – Bitcoin Cash introduced a hard fork on November 15. That is part of a larger network update which is underway. Two or three versions of the fork for Bitcoin Cash which is called Bitcoin ABC will be updated. The idea of the upcoming fork on the next day might have been the catalyst for the decline in Bitcoin which then dragged other cryptocurrencies with it. A similar price action was observed in Bitcoin in August last year when Bitcoin introduced its hard fork.
Deleveraging of Institutions – Certain institutions, both private and public, such as hedge funds have been investing in Bitcoin and other major cryptocurrencies even during the major surge last year and after the major decline ended. But recently it has been noted that those institutions have deleveraged their positions. This means liquidating some of their crypto reserves. Whether this is a bad sign for the future we are not sure. Do they know something we don't?
Technical Reasons
The Lack of Volatility Recently – As we mentioned above, volatility in cryptocurrencies has been pretty low recently. If these were fiat currencies, this would be normal, because the market would have come to the conclusion that they have found their true value. But for cryptocurrencies, we are nowhere near knowing at what price their true value is. They don't have an economy behind them and a central bank to secure a minimum value. So, that is uncertain for cryptocurrencies at this moment of their history. With this logic behind, the market was going to go with the direction of the initial move when a move decent enough came. This time, the move was bearish and crypto traders piled on the short side.
Bitcoin finally broke below the support level. Note the spike lower several days earlier, that is a present from my broker, because Bitcoin didn't really dive that day
Break of the Support – We also mentioned above that Bitcoin had established a long term support level at $6,000. This level was the low back in February during the fast crash after the fast surge at the end of last year. It was immediately considered a strong support level since it survived such a violent crash. Such strong levels form a buffer zone, which for this level stretched around $200 above and below it. When big support/resistance levels like this get broken, the momentum pushes the price in that direction, so the decline in Bitcoin was amplified by the break of this major support level.
So, as you can see, there are a number of reasons for the decline in major cryptocurrencies which was led by Bitcoin. Bitcoin lost nearly 20% of the value in those two days, while Ethereum lost around 25% of its value. The entire value that was lost in the digital market was around $20 billion.
Bitcoin and other major cryptos closed Thursday with a pin candlestick which is a reversing signal. That increased hopes that altcoins would recuperate the losses and get back to the range of recent months, but we haven't seen a follow up of that pin candlestick in the price action during the last few days.
So, now we might see a new range for altcoins which in Bitcoin might be between $5,600 and $5,000. We will follow the price action in cryptocurrencies in the coming days and perhaps get a trade on Bitcoin.