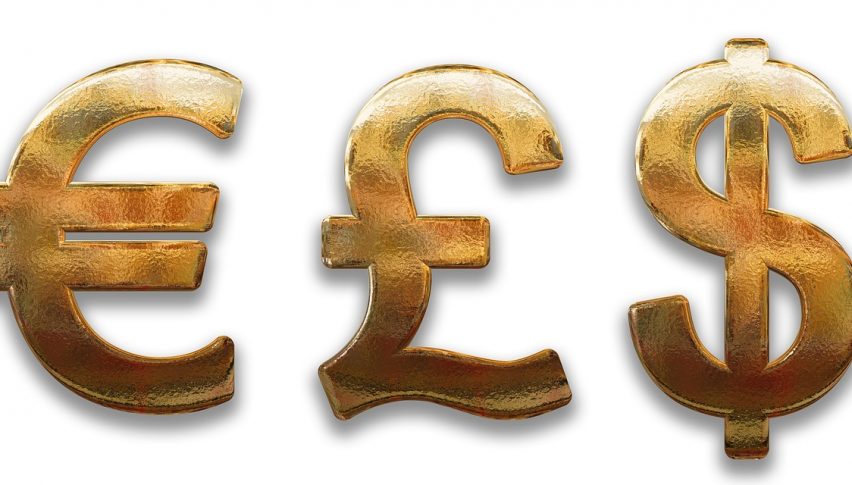 Weekly Update, Nov 19 – 23: Top Forex Setups & Economic Events to Trade
Posted Sunday, November 18, 2018 by
Arslan Butt
• 4 min read
The dollar ended the week in loss as bulls remain cautious over comments from two US Federal Reserve officials about global economic growth.
The British Pound remains vulnerable as uncertainties from the Brexit deal continues to hit the market.
Eurozone inflation rose in October at its fastest pace in nearly six years, yet EUR/USD maintains bearish momentum.
What to expect this week? Fundamentals & Technical outlook for Dollar, EUR/USD and GBP/USD.
Dollar Index – Ascending Triangle Ready to Support
The US dollar declined after a prime Federal Reserve official stated the interest rates are near a neutral rate, while continued risk over Brexit overtakes the currency. Fundamentally, the coming week isn't offering any major economic event which has the potential to drive big movements in the dollar. Which is why I would like us to turn the focus on the technical side. The only economic event worth looking at is Core Durable Goods Orders.
Core Durable Goods Orders m/m – On Wednesday, the data is due at 13:30 (GMT). Good news is that US retail sales are expected to rise by 0.4% which is way higher than 0% in Oct. For the newbies, it's a change in the total value of new purchase orders placed with manufacturers for durable goods, excluding transportation items. It's a leading indicator of production – rising purchase orders signal that manufacturers will increase activity as they work to fill the orders.
Weekly Technical Levels
Support Resistance
96.02     97.04
95.71      97.35
95.2        97.86
Key Trading Level: 96.53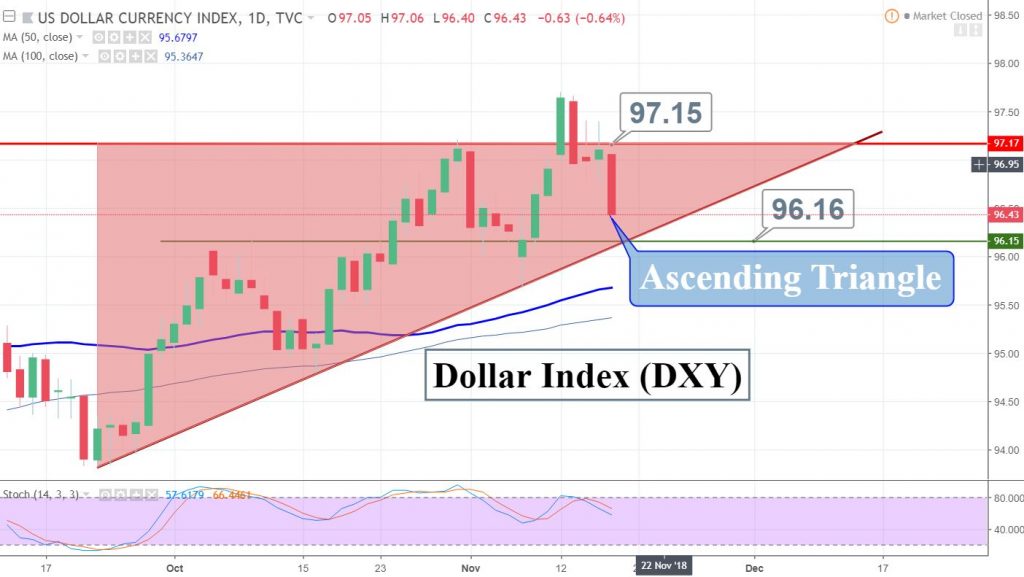 Key Technical Points
The dollar index trades above 20 & 50 periods EMA which signifies a bullish sentiment of traders.
On the daily timeframe, the dollar is showing a strong sell over fundamentals. But here's the thing – the upward trendline is likely to support it near $96.15.
The RSI & Stochastics are still holding above 50, indicating a strong bullish momentum in the dollar.
The bearish engulfing candle can cause a continuation of the selling trend until $96.15.
The bearish breakout can lead it towards $95.70
EUR/USD – Bullish Engulfing on Weekly, is it Pointing Reversal?
The single currency Euro has started getting stronger on the weaker dollar. The side effects of the trade war discussions are overshadowing Italy's debt crisis. As reported by the CNBC, "President Donald Trump gave the market a boost Friday when he said he was hopeful that US and China would strike a deal on trade, a major focus for stocks. But White House officials later downplayed his comments and said there were no signs of a deal coming soon."
Investors have invested in the dollar due to trade war as they believe they this trade war isn't likely to impact the United States.
But if Trump is leveraging the USA now over tariffs, it's going to reverse the whole idea behind taking positions in the dollar.
Technically, the EUR/USD traded bullish at $1.1415 after placing a low below $1.1215. It has formed a sort of a bullish engulfing or a hammer pattern which is followed by a strong bearish trend. Typically, these sort of patterns often reverse the trends.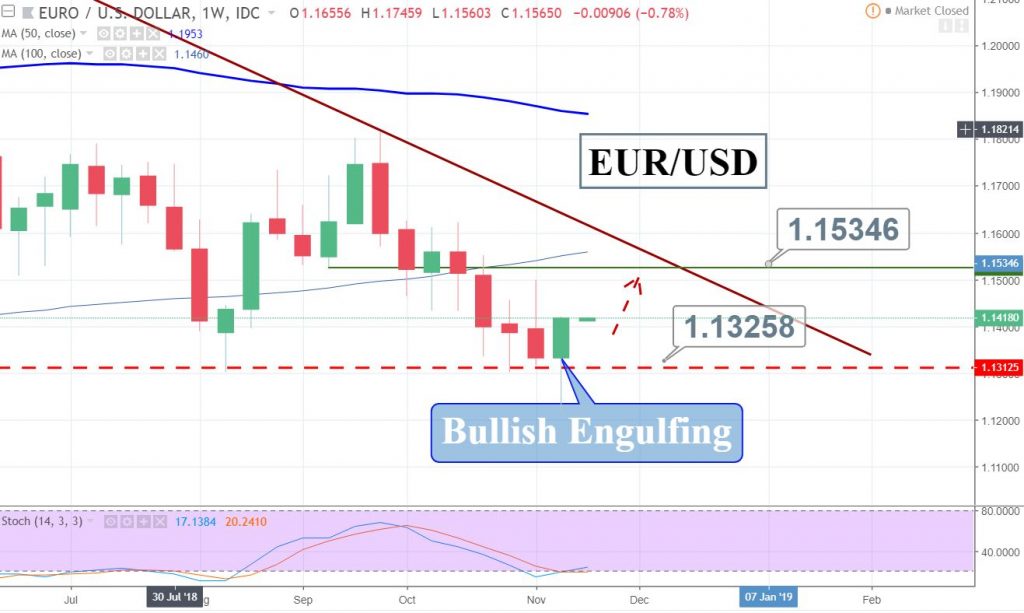 That being said, we can expect EUR/USD to continue trading higher until $1.1535, while the support remains at $1.1310.
Potential Economic Events to Impact on Friday – The European economy is due to release a series of economic events which include:
French Flash Manufacturing PMI – The figure is due at 8:15 (GMT) with a forecast of 51.3 vs. 51.2 during the previous month.
French Flash Services PMI – Beside the French Manufacturing PMI, the services PMI will be observed. It's expected to drop slightly to 54.9 vs. 55.3.
German Flash Manufacturing PMI – The data will be released right after 15 minutes of French services and manufacturing PMI at 8:30 (GMT). It's forecasted to rise from 52.3 to 52.2.
German Flash Services PMI – It's scheduled with a forecast of 54.6, slightly below the previous month's figure of 54.7.
Weekly Technical Levels
Support    Resistance
1.1313        1.1455
1.1268        1.15
1.1197        1.1571
Key Trading Level: 1.1384
EUR/USD – Trade Plan
The idea is to stay bullish above $1.1380 with a stop loss below $1.1340 and take profit at $1.1460 and $1.1535. While selling is preferred below $1.1310.
GBP/USD – Uncertainty Over Brexit Knocks Down the Sterling
The British Pound strived to stabilize itself after having suffered a turbulent slide on Thursday. Investors fearing political turbulence in the country could see it tumble out of the European Union without a divorce deal. The sell-off got serious after the resignation of key ministers from her UK government, intensifying pressure for UK Prime Minister Theresa May.
GBP/USD – Technical Outlook
On the 4-hour chart, the cable took a bullish turn to test the 20 periods EMA at $1.3035, but it failed to give us a bullish crossover. This signifies uncertainty regarding the bullish reversal in the pair. It's a fundamentally driven week, and we can't determine much based upon the technicals.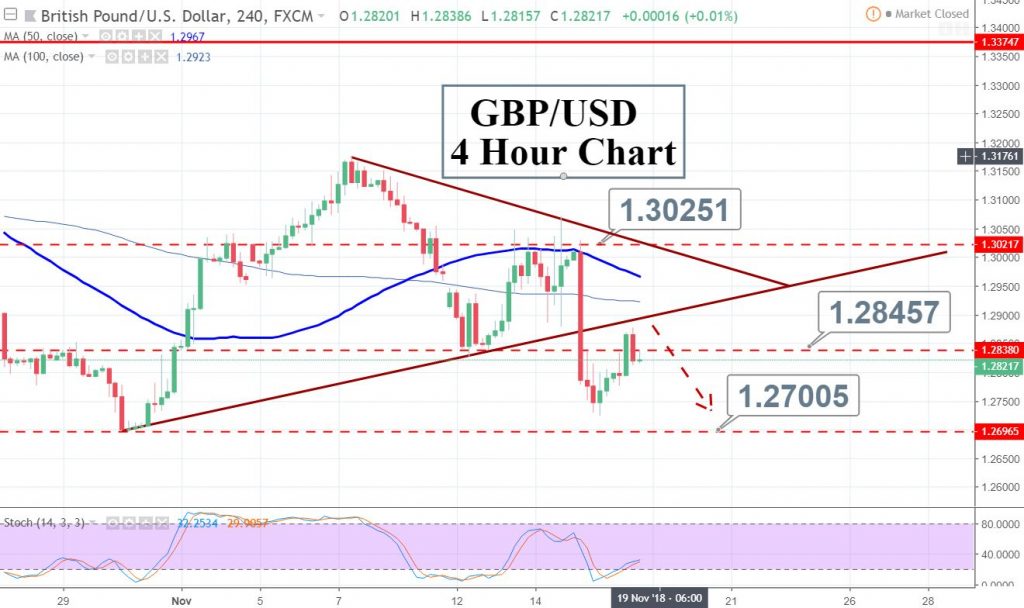 Weekly Technical Levels
Support   Resistance
1.2707       1.3021
1.2585       1.3212
1.2272       1.3525
Key Trading Level: 1.2899
GBP/USD- Fundamental Outlook
Inflation Report Hearings – On Tuesday at 10:00, the Governor and the MPC (Monitory Policy Committee) are gonna testify on the inflation report before the Parliament. The hearings are a few hours in length and can create market volatility for the duration. Especially noted are the direct comments made about the currency markets.
Let us recall, the UK's inflation rate is still in the range, but this month, it fell from 2.5% to 2.4%. All we need is to see what they are expecting in the future.
The pair may face an immediate resistance near $1.2845 and $1.2950 along with a support near $1.2800. So, the idea is to stay bearish below $1.2925 to target $1.27500.
Good luck and keep following FX Leaders for another profitable week.