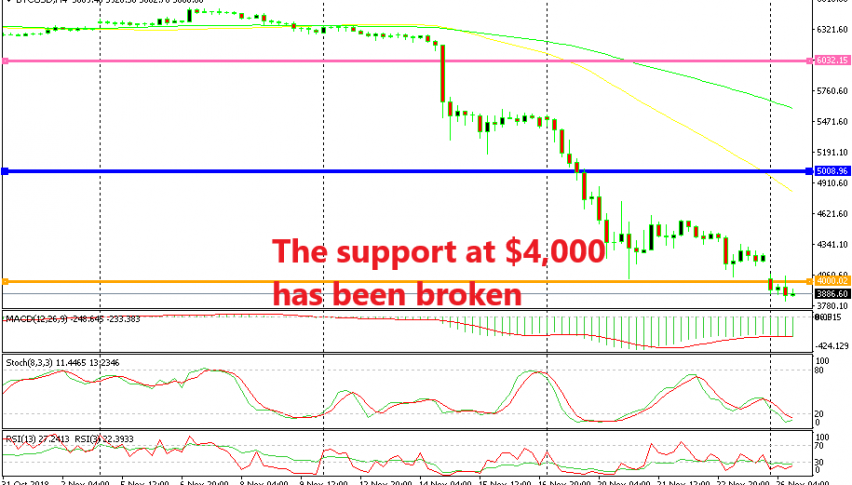 Bitcoin Breaks the $4,000 Level As the Downtrend Resumes
Cryptocurrencies resumed the bearish trend two weeks ago as Bitcoin Cash introduced a hard fork. Bitcoin broke below the major support level at $6,000 while last week it broke the $5,000 level which was another big round level for Bitcoin.
So, it looked like cryptocurrencies were in trouble, but another major level turned into support for Bitcoin. The $4,000 level held the first attempt early last week and the price reversed from it another time by the end of the week, which made crypto traders think that finally, Bitcoin had found a base after losing around half its value in a bit more than a week.
But, the decline continued during the weekend and today we find Bitcoin below the $4,000 level. The buyers tried to push the price back above that big level a few hours ago, but they failed to hold the price above it and it slipped back below the $4,000 level.
Now, that level has turned into resistance, so it might be a good place to look for shorts in Bitcoin because I don't think anyone is looking to buy cryptocurrencies right now. The fundamentals are just not right to go long on altcoins at the moment, so the buyers better wait for the downside to unfold completely and when the trend changes they might consider going long. We don't know where the end of this decline will be, but it surely is not at this time.