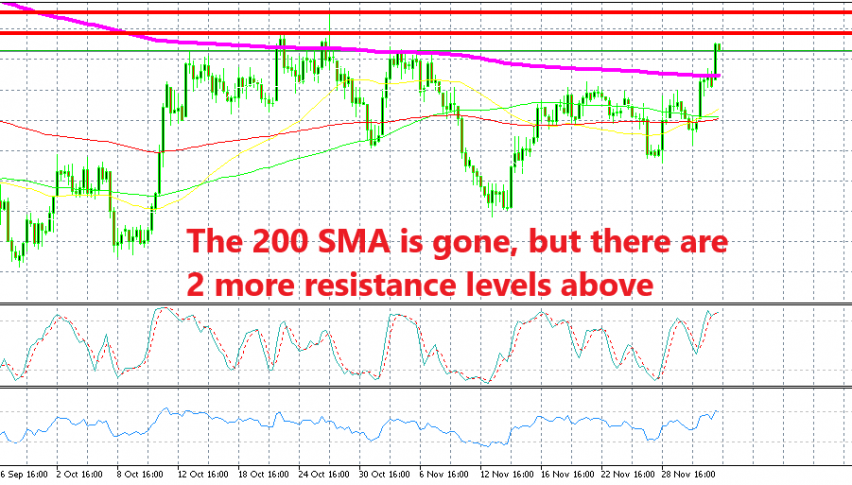 Gold Breaks the 200 SMA But Faces Further Resistance Above
GOLD climbed more than $10 yesterday during the European session, which seemed sort of strange as we explained in a forex update yesterday, because the market sentiment was positive. That's the reason I didn't want to go short on Gold, because if the sentiment turned negative, safe haven assets such as Gold and the JPY would gain even more.
But, I finally decided to go short on Gold because it was banging its head at the 200 SMA (purple) which has provided resistance during October and the beginning of November. It had been pierced a couple of times, but the price returned back below it, so this moving average was a strong resistance indicator, as you can see from the H4 chart above.
This morning, the safe havens got another boost and the JPY has gained around 100 pips against the USD while Gold popped above the $1,240 level. Although, there are more resistance levels above which we are counting on to force a bearish reversal on Gold.
First, we have the $1,245 level which is where Gold reversed back in October, Above that, there is the big round level a $1,250 which has been the high in the last several months. Now Gold is overbought on the H1 and the H4 charts and the daily chart will become overbought soon as well.
The price has started to reverse back down in the last hour, but it is still too early for a reversal. The bid in safe havens should come to an end before we see a bearish reversal in Gold, but USD/JPY continues to slide lower, so the hard times are not over yet for our Gold signal.
Yesterday the CPI numbers from European countries showed a slowdown, so today's headline Eurozone inflation numbers should be soft as well
4 days ago