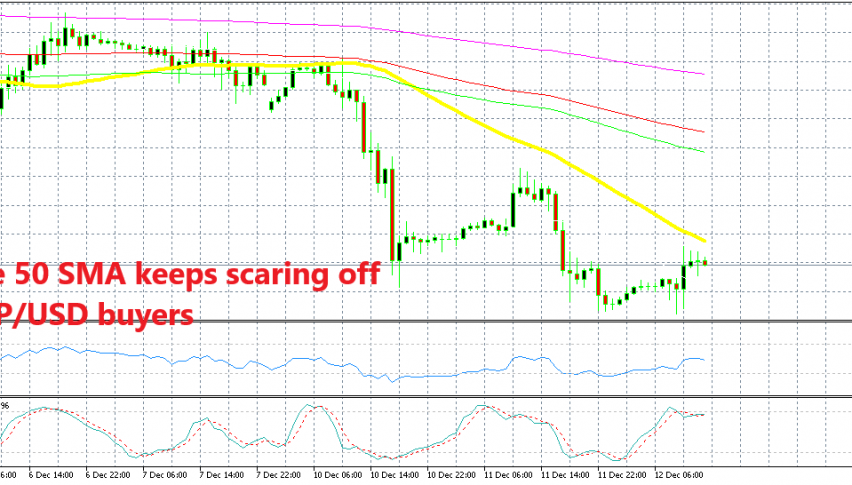 The 50 SMA Catches Up With GBP/USD
Posted Wednesday, December 12, 2018 by
Skerdian Meta
• 2 min read
GBP/USD has been trading on a bearish trend in recent weeks as you'd expect in such times. Although, the downtrend has been pretty weak as new lows were slow and small during the last few weeks. But, it gained speed this week after Theresa May called off the Brexit vote in the British Parliament on Monday afternoon.
GBP/USD lost around 250 pips from top to bottom that day and yesterday the price made some new lows, breaking below 1.25 for the first tie since April last year. Today, Theresa May's leadership has been contested and the Conservative lawmakers will hold a vote on her leadership in the evening, which will bring an end to her reign in the UK if she loses.
Although, we have heard some Conservative MPs speak out in her support and GBP/USD rallied more than 60 pips early this morning. The 50 SMA (yellow) has made a down turn on Monday, following the 250 pip decline that day and it is now catching up with the price on the H1 chart.
In fact, today's chart setup looks very similar to the one we saw yesterday. GBP/USD retraced higher yesterday during the European session but it reversed back down as the 50 SMA approached. This morning we saw another retrace higher similar to the one we saw yesterday and it seems like the price is about to resume the bearish trend again as the 50 SMA approaches.
The previous candlestick closed as a doji which is a reversing signal, so the bearish reversing chart setup is taking form on the H1 chart for GBP/USD. The political situation is pretty unstable in Britain right now so it is pretty dangerous trading GBP pairs, but the the pressure is on the downside, so we might as well open a sell signal here soon.
OK, we just went short on this pair based on this chart setup, so let's wait for this trade to unfold now.