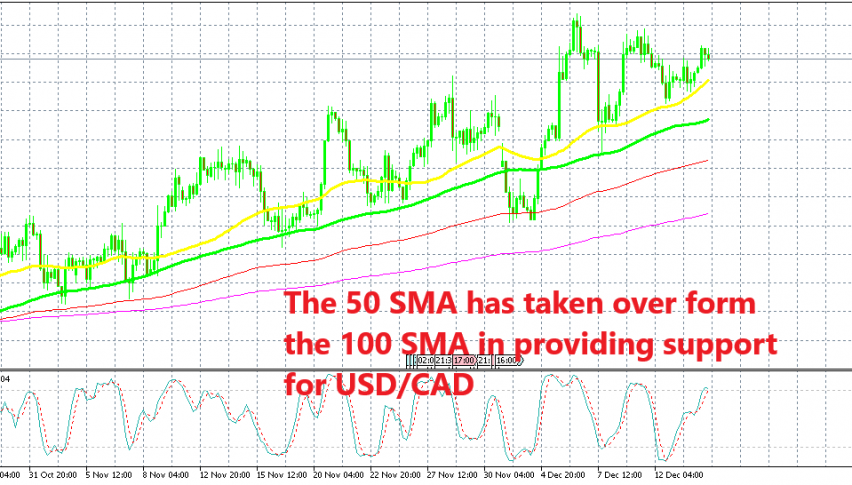 Moving Averages Keep the Uptrend in Place for USD/CAD
USD/CAD has been on an uptrend since the beginning of October as market sentiment turned negative and Oil prices entered another bearish phase. The Canadian Dollar follows Oil prices closely most of the time, so it continued to fall as Oil prices declined, thus USD/CAD kept climbing higher.
Although, it opened with a bearish gap on Monday last week and continued lower, losing nearly 200 pips in total during that decline after OPEC+ countries decided to cut Oil output by 1.2 million barrels/day. But, that decline stopped at the 100 smooth MA (red), as you can see from the H4 chart above.
That was the only time that this moving average provided support in the last several weeks because the other moving averages have been doing that job. The 100 simple MA (green) has provided support many times for USD/CAD. We can say that this moving average has been the main indicator to hold the uptrend in place and push USD/CAD higher.
Although, in the last few days we have seen the 50 SMA (yellow) take its place as support for USD/CAD. It held the decline late last week/early this week, and it has provided solid support throughout the week. Yesterday we saw this price bounce off the 50 SMA.
This sort of thing happens when the trend becomes stronger, the smaller period moving averages come into play as support and resistance levels. The uptrend gained pace in the last two weeks as OPEC seems not to be able to meet the quotas to cut production. Oil has been trading sideways in the last two weeks, but the sentiment is still bearish, so the CAD is still in decline and USD/CAD continues to climb higher. Another decline to the 50 SMA or even better, to the 100 simple MA would be a great chance to go long on this pair.