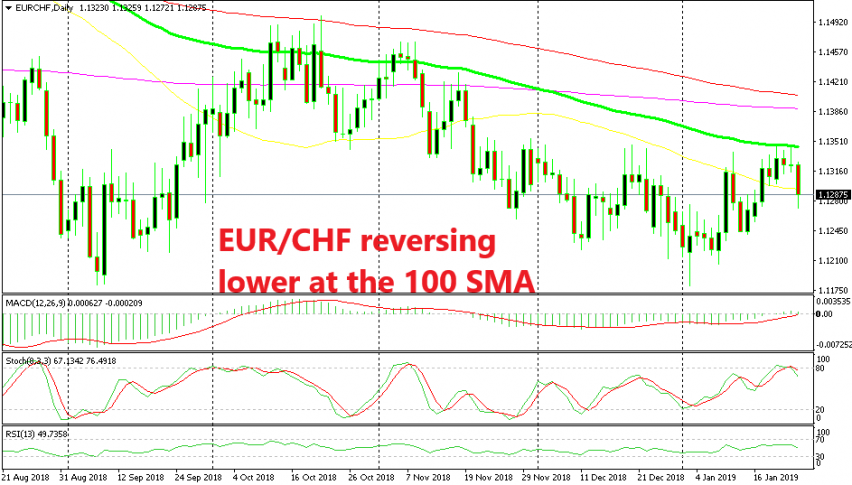 EUR/CHF Dives as SNB Chairman Sounds Incapable of Changing the Course
EUR/CHF has dived around 70 pips since the highs yesterday. This forex pair has been on a bullish trend for about a week, but it started to turn bearish yesterday and today it made the decisive move lower after the Chairman of the Swiss National Bank (SNB) held a speech earlier on.
Chairman Thomas Jordan opened the speech and the headline comment sounded like he was throwing the towel. Let me list his comments below:
Negative rates and interventions pledges are insufficient
SNB still has some room to maneuver on interest rates
Sees certain geopolitical risks for the global economy
Uncertainties for global economy have increased
No reason to change SNB monetary policy
To continue current monetary policy for some time
His comments are mostly gloomy, painting a dark picture globally. But more important is the fact that the SNB seems helpless to do anything. They are sticking to the path that the ECB is following for their monetary policy.
But with the recent weakness in the Eurozone which was confirmed yet again by the soft manufacturing and services data this morning, the ECB will keep the accommodating policy for some time to come.
As a result, the CHF has gained strength today and EUR/CHF is making a bearish reversal. It was retracing higher for more than a week, but it ran into the 100 SMA (green) on the daily chart. Yesterday, the daily candlestick formed a doji as well which is a reversing signal and the bearish candlestick is following today.