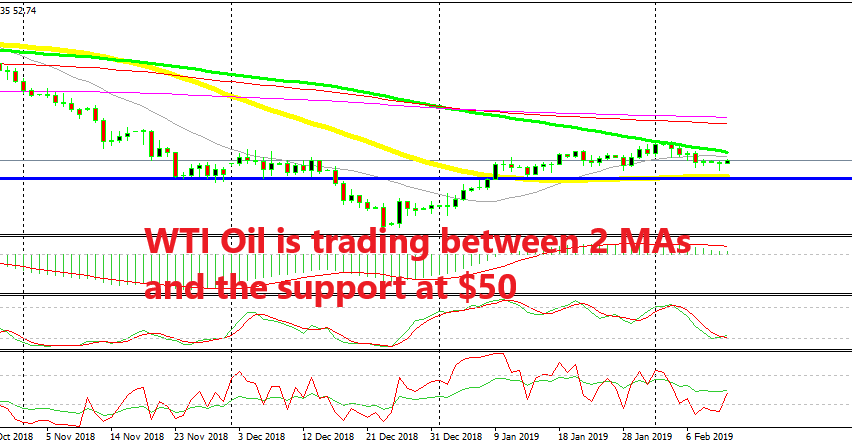 US WTI Crude Heads Towards the Support After Failing at the 100 SMA
Crude Oil prices turned higher at the end of December amid some thin liquidity in holiday markets as the sentiment improved further. It broke above the 20 SMA (grey) which had provided resistance in December on the daily chart and it broke above the 50 SMA (yellow) as well. These two moving averages didn't provide any sort of resistance on the way up, but the 100 SMA (green) did.
The 20 SMA pushed WTI higher as it turned into support late last month, but the 100 SMA didn't let go. This moving average provided resistance early this month at $55.60. A triangle was forming between those two moving averages last week, but eventually the 100 SMA won the battle and the break came to the downside.
As a result, Oil has lost around $4 since topping out last week and we see that it is now heading towards another moving average. The 50 SMA (yellow) is waiting down below and it is staying just above the big round level at $50.
That level provided support during late November/early December as the price was falling down as you'd expect, and it is very probable that it offers support to WTI crude once again now. The 50 SMA should add some strength to it too.
Besides, the stochastic indicator is oversold on the daily chart which means that if this is a retrace of the bullish trend that started late in December, then this might be the end of it, at $50. If the bigger bearish trend that started in October will resume, then the $50 level won't last long. But, it might offer a decent bounce nonetheless where we could make a nice amount of pips, 100-200 probably. So, we will be watching the price action as the crude Oil slips down there.