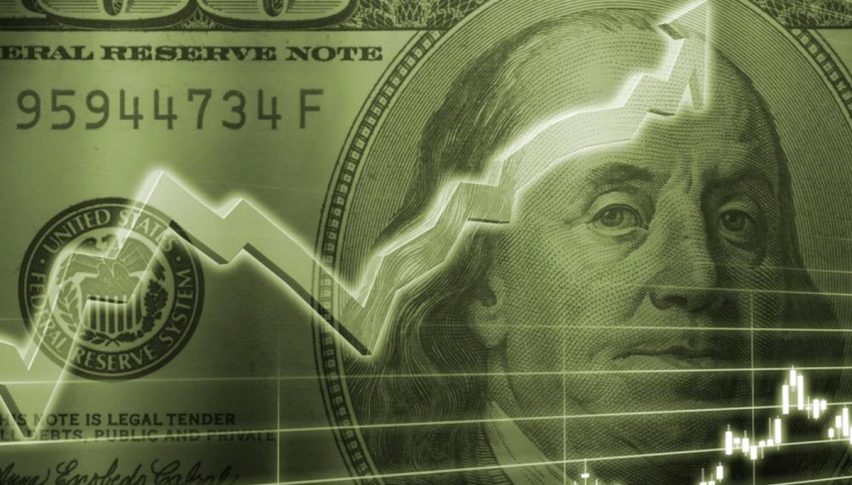 US Session Forex Brief, March 14 – USD Bulls Finally Make a Comeback
The US Dollar turned bearish last Friday after the US non-farm employment change figures came really soft. The unemployment rate lost two points and, most importantly, earnings increased by 0.4% in February, beating expectations. This is the second month earnings grew by 0.4% after they increased by 0.4% in December. Earnings have been the laggard during the economic expansion in the US since the 2008-9 crisis, but they seem to be moving in the right direction at the right pace now. Nonetheless, markets concentrated on the non-farm employment change and the USD has been on a downtrend the entire week.
Today though, situation seems to have changed, at least for the time being. The Buck has reversed higher and it has climbed around 50 pips across the board. The weaker industrial production from China which was released during the US session and the postponing of the Trump-Xi meeting beyond March seems to have dented the sentiment in financial markets and directed bids towards the USD. Although, safe havens are down as well, so this looks more like a USD move.
The Brexit saga seems to never end. The odds of extending the Article 50 once again are increasing and EU's Donald Tusk has appealed to the EU27 countries to be open on a long extension if the UK needs to. Suggestions are that May will ask for a delay at the EU Summit next week and now odds of May's deal passing with some more changes are increasing again. Crude Oil has also broken out of the 1-month range helped by Iraq which is asking for higher Oil prices and OPEC is urging Oil producers to not return to surplus this year. So much for Donald Trump's tweet.
European Session
Odds of May's Deal Passing Grow for Goldman Sachs – Goldman Sachs now sees a greater chance of May's deal getting through and reduced chances of a no deal Brexit. Revised/Delayed Brexit is now seen at 60% (previously 55%). A second referendum is now seen at 35% (unchanged) and a no-deal Brexit is seen at 5% (previously 10%).
German GDP Growth Revised Down By Ifo – Germany's Ifo institute slashes its growth forecast of the economy this year from 1.1% previously to 0.6%. The German Economy Ministry commented that the German economy had a subdued start to 2019 which points to higher risks and uncertainties abroad. Domestic demand remains solid and fiscal impetus provides support for the economy. Weak phase in industrial sector likely to continue but it mainly stems from weak demand from abroad.
German CPI – Consumer price index inflation has been weakening in Germany during the end of last year as Oil prices kept falling and in January, inflation declined by 0.8%. Although, it was expected to make a turnaround in February and increase by 0.4%. The actual number came at 0.5%,beating expectations.
Iraq and OPEC Want higher Oil Prices – Iraq's Oil Minister said that it is seeking higher price for crude oil than current market prices. Oil prices of $60 to $65 per barrel are 'relatively comfortable', OPEC meeting in April will decide whether to extend output cuts until year-end and Iraq is committed to OPEC deal. Later on we saw OPEC urge oil producers to prevent return of surplus this year. Encourages OPEC members to continue with output cuts strategy saying that producers are responsible for preventing return of imbalance. Strong growth in non-OPEC output highlights need for OPEC+ producers to continue supporting market stability this year.
Theresa May Will Push for A Third Vote on Her Deal – UK PM spokesman James Slack commented earlier that May would put her deal to a third vote if it is 'worthwhile'. There are no negotiations with the EU at the moment, May has made it clear that she won't revoke Article 50 and if there is no deal by 20 March, UK faces a long Brexit extension. So, another extension it is then.
The US Session
US Unemployment Claims – The unemployment claims have been in a range of 210k-220k but they moved above that range to 230k-240k in the last weeks of January and the first weeks of February. Although, unemployment claims fell to the normal range by mid-February. They were expected to come at 225k for last week, but missed expectations slightly coming at 229k which is still within the normal range.
US Import Prices – We have seen import prices decline for the last three months, from November last year to January. Although, January was revised higher today from -0.5% to 0.1%. Expectations were for a 0.3% increase in February but the actual number beat expectation coming at 0.6%. Although the YoY figure still remains negative at -1.3%, but that's below expectations of -1.5% and up from -1.7% previously.
UK Parliament to Vote on Extending Article 50 After 4 Amendments – The speaker of the British Parliament will put the Article 50 for extension later today but only after the Parliament votes for four amendments. First, the amendment H calls for a 2nd Brexit referendum, amendment I seeks to pave the way for a vote on Brexit options, amendment E seeks more time to find a common way through the Brexit impasse and there's a fourth amendment (J) as well, which I believe is to block May from holding a third meaningful vote. Let's see how it goes.
US New Home Sales – New home sales took a bearish turn in September and October last year but they increased again to 657k in December. Although they cooled off again in January this year falling to 621k and today they were expected to remain the same, they declined to 607k.
The move lower is almost complete
SMAs are providing support
Another support is lying close below
Moving averages are providing support again
EUR/CHF turned hawkish at the beginning of this week from 1.13 lows and pushed higher to 1.1380s. We had a buy signal from last week which closed in profit on Monday. But, we see that today this pair is reversing back down which seems like a good opportunity for another buy trade. The stochastic indicator is almost oversold which means that the bearish move is almost complete on the H4 chart and the MSAs are providing support at 1.1340s. We also have another support area at 1.1330s, just in case. I will try to go long on this pair if the price slips to 1.1330s-40s soon.
In Conclusion
The UK Parliament will vote on a number of amendments later today which will include the option of another Brexit referendum, so it will be interesting for GBP traders. After that, the Parliament will vote on another extension of Article 50. It will be messy for the GBP because an extension would relieve some nerves of a no-deal Brexit outcome, but it pushes uncertainty further down the road for businesses, so it's a two-sided sword.