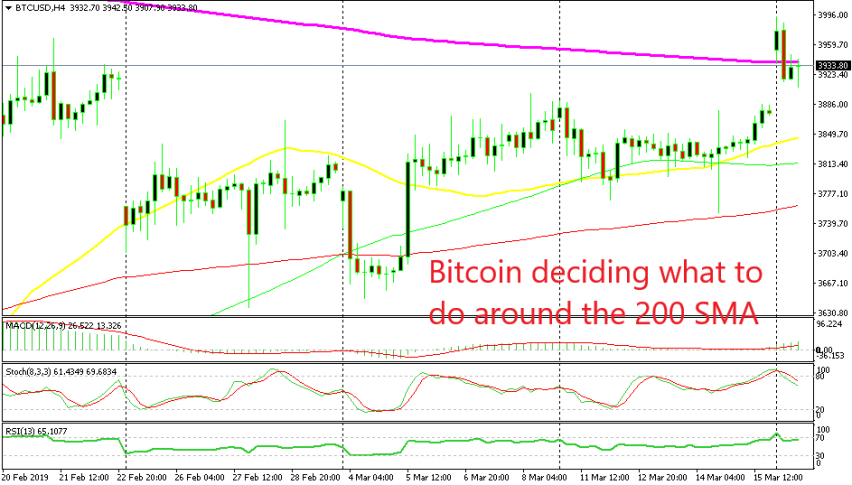 Bitcoin Moves Higher Over the Weekend and Plays With the 200 SMA Now
BITCOIN had a great month in February, or so it seemed until the last week. The price bounced off the support area above the $3,000 level, found resistance at the 100 SMA (red) on the H4 chart for a week, but then made another bullish move the week after. But it failed to break above the $4,000 level, as my crypto broker's price feed shows.
After failing to push above $4,000, which is the lower level of a resistance zone, the buyers lost the stamina and the sellers reversed the price back down, hence the bearish gap 3 weeks ago. But, the moving averages that provided resistance on the way up turned into support on the way down.
Bitcoin reversed up two weeks ago and moved above the 50 SMA (yellow) which together with the 100 SMA (green) provided support all week last week, apart from one occasion when the 100 SMA (red) held the spike lower. Today, we see another gap, this time to the upside. Bitcoin opened nearly $100 higher this morning when my broker opened the platform.
The price opened above the 200 SMA (purple) this time, which is the first time since August last year. But, the $4,000 level still remains and in the following hours, [[Bitoin]] slipped back below the 200 SMA. Now it is playing with this moving average, so we'll see how it ends up.
If the 200 SMA is broken and the price stays above, then it will be a strong bullish signal. But the buyers should take out the resistance level as well which stretches from $4,000 to $4,200. Until that happens, Bitcoin is still bearish. Above $4,200 and Bitcoin turns bullish, at least until $5,000.