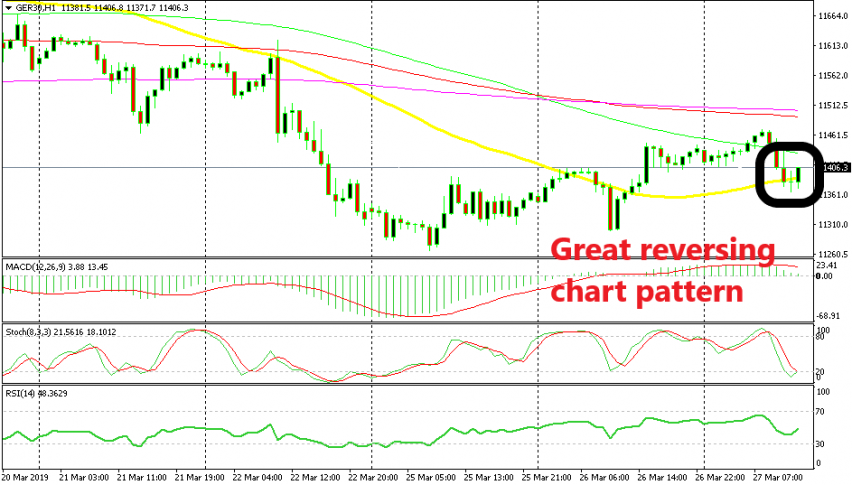 DAX Retraces Lower and Forms the Perfect Pattern for Buyers
Earlier this morning I posted an article about the German DAX where I analyzed the daily chart. This index has formed a perfect bullish setup on that time-frame as stochastic is oversold which means that the retrace lower of the bigger trend that started at the end of last year is now over. The daily candlestick also points to a bullish reversal, but I didn't want to go long before this index, and stocks in general, made a retrace lower which would increase the reward:risk ratio, since I don't like to risk too much on a single trade.
The retrace lower came today during the European session as the sentiment turned negative once again. You can observe that by the decline in USD/JPY in the last few hours since safe haven assets attract bids during such times. I was looking at the 50 SMA (yellow) yesterday on the H1 chart as a possible support indicator where I could go long from on DAX30.
This moving average provided resistance yesterday on the way up, so it should turn into support now. That's what happened in the last couple of hours. DAX lost around 100 pips this morning and reached the 50 hourly SMA which did provide support. The stochastic indicator is also oversold now which means that the pullback is complete and it is reversing higher, suggesting that a bullish reversal is coming.
Besides that, the previous hourly candlestick closed as a doji which is a bullish reversal signal after the retrace lower and the current H1 candlestick already looks pretty bullish. Now the price has climbed nearly 50 points/pips and it has surfaced above the 11,400 level, so the reversal is already underway. Judging by the daily chart, there's a possibility to make several hundred pips until the high of this month, but one step at a time; let's see if the buyers will take full control now.
Update: Dax has spiked 60 pips higher while I am posting this update as stock markets turn bullish again on the improving sentiment. USD/JPY has turned higher as well.