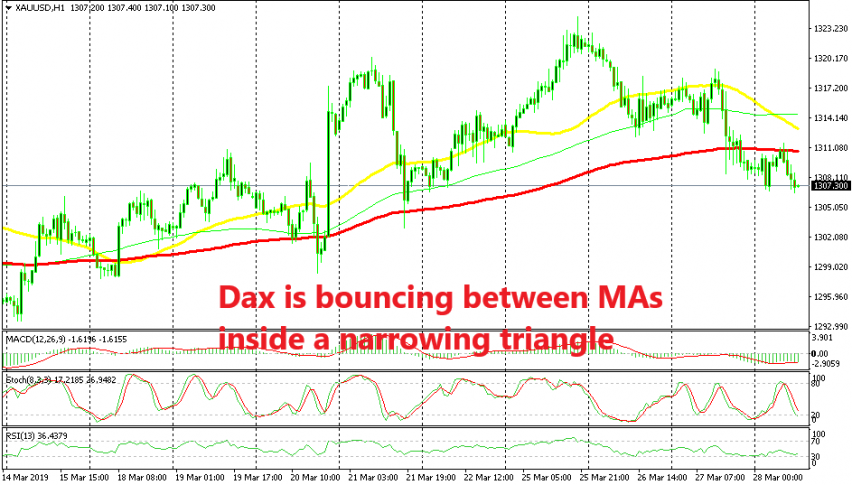 A Triangle is Forming in DAX as the Range Narrows
Last week, the sentiment turned quite negative in forex and as a result, risk assets dived lower. DAX lost nearly 400 pips in the last day alone, but the decline stopped this week as the sentiment improved. Although, markets continue to remain uncertain about which direction to go.
This week, Dax has formed a slight uptrend as you can see from the hourly chart above. But, the uptrend looks suspicions as well because the price action has been pretty volatile. Stocks have been moving higher for a session, only to reverse back down in the next session.
Today we saw a jump higher earlier in the European session. But, the climb stopped at the 200 SMA (purple) which killed the bullish move yesterday too. The 100 SMA (red) is also providing resistance on top because the H1 candlesticks closed below it, so these two moving averages are working together as resistance.
At the bottom, we have the 50 SMA (yellow) which is working as support for DAX. This moving average provided resistance on Tuesday as the price was reversing up, but then turned into support after being broken. The 50 SMA is moving higher and it is pushing the swing lows higher as well, which means that it is forming a wedge/triangle.
Now the distance between the support which is the 50 SMA and the resistance at the two MAs above is getting narrower, so a break is bound to happen soon. It is unknown which direction the break will be in, but since the lows are getting higher and the 50 SMA is pushing up, than chances are that the break will be to the upside. We are already long in this index since yesterday and hope that the bulls win this battle.