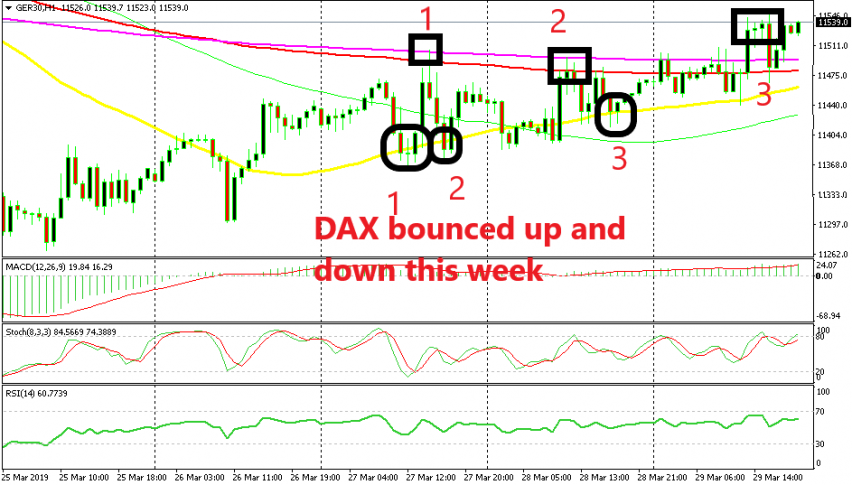 We Should be Flexible When Volatility is High – Trading Strategies
You often hear phrases like "pick a plan and stick with it" when you read forex strategies or forex textbooks. That's quite true most of the time, but at times, we should be flexible when trading, especially when markets are uncertain and volatile. At such times,we should be more open to market volatility and flow with it. In fact, this term above doesn't necessarily mean picking a direction and sticking with it forever. Instead, it means that we should use our strategy to get in a trade and get out of it when markets change.
That was the case with stock markets this week. We decided to trade the German DAX this week as the market sentiment improved after it turned completely negative last week. We picked an entry point for it where the first circle is based on our strategy. The setup was perfect for a buy trade and it fulfilled our criteria, that is:
The trend was bearish
The 50 SMA which provided resistance before turned into support
The pullback lower was complete
The previous candlestick closed as a doji
One part of the strategy was to find the reversing moment for DAX which was pretty evident from the four signals of our strategy. The next part was to set an exit point and we used larger time-frame charts for that now, placing the stop around 200 pips below this month's highs.
But, we forgot to take into consideration the volatility – the Brexit situation this week and the uncertainty that it was bound to induce. In this occasion, traders were reluctant to stick to a direction/side for too long. The pressure was clearly in the upside as the uptrend suggests, but DAX buyers were hesitant to hold on to their trades when the price got too close to the 2 moving averages at the top which provided resistance until they were broken on Friday.
We eventually closed that signal manually when the price moved above the moving averages on Friday. But, had we closed at the top MAs and re-entered again at the 2nd and 3rd circles we would have ended up with a nice 400 pip profit. We could have easily had three trades here, buying at the circles and unloading at the squares above. Traders who like risk, could have had six trades, also selling at the top and closing at the 50 SMA. But, we can live with a 150 pip profit, I suppose.