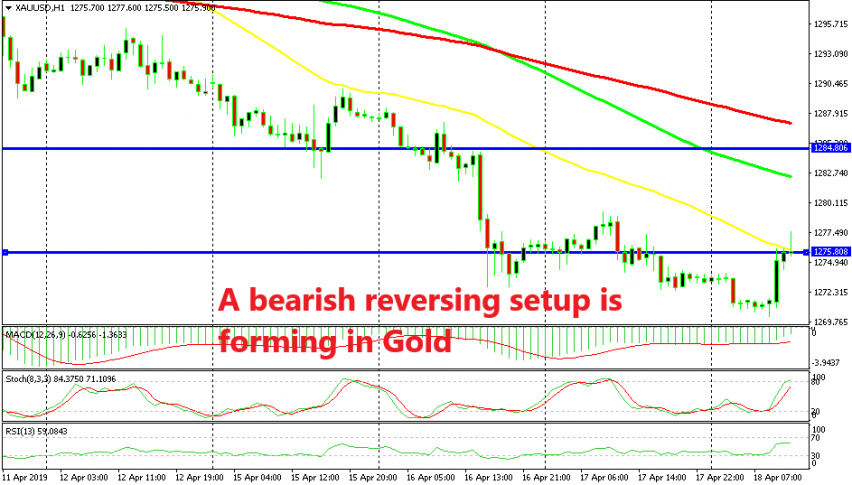 Gold Makes a Bullish Reversal and Breaks Above the First Resistance as Safe Havens Feel Attractive Again 
GOLD made a bearish reversal in February at the bottom of the resistance area which comes at $1,345. Gold formed two support levels at $1,285 and $1,275 close to each other, as it was reversing down. This raised the question whether this was a real reversal or just a pullback to refresh the trend before the next bullish move came, because Gold wasn't making any new lows in the last four months, since the beginning of this year.
But, the lower highs since February were a sign that the trend was shifting. Eventually, we got the confirmation that the trend has reversed to bearish this week as Gold broke below both support levels as well as below the two 100 SMAs (green and red) on the daily time-frame chart.
Although, this morning Gold has turned bullish again after the economic data from the Eurozone showed that the manufacturing activity in Europe remains pretty weak and this sector is deep in contraction. That's before Donald Trump slams tariffs on European cars.
So, Gold surged more than $7 higher on the negative sentiment and it broke back above the lower support level at $1,275, which now turns into resistance. The price pushed above this level and the 50 SMA (yellow) on the H1 chart which comes at the same area. But the surge is over and we see now that the price is slipping slowly back down.
If the H1 candlestick closes as a pin, especially if it closes below the 50 SMA and the resistance level, then that would be a really strong signal to sell. The retrace higher is complete, so the bearish momentum should continue, right? We will be following the price action now and see if we get get a trade in GOLD on the bearish side.
Yesterday the CPI numbers from European countries showed a slowdown, so today's headline Eurozone inflation numbers should be soft as well
17 hours ago