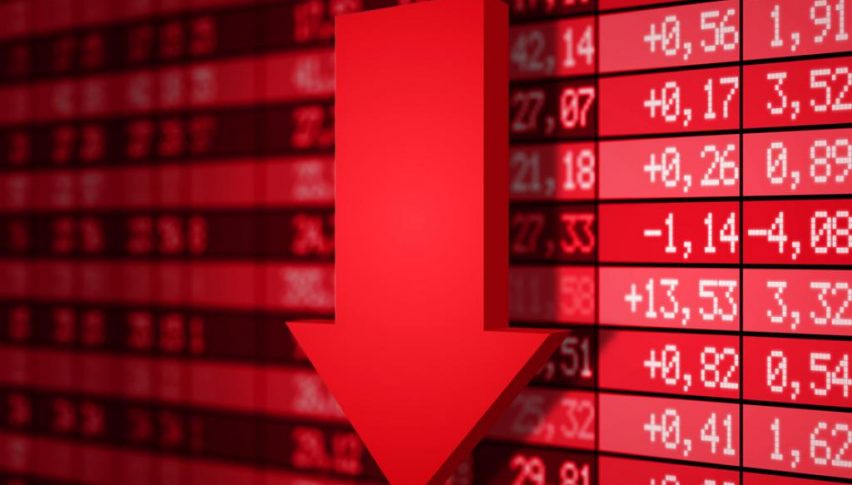 Tariffs, Trade War Fears Slam U.S. Stocks
A massive sell-off on Wall Street has been the story this morning, led by steep losses in the U.S. indices. The tit-for-tat exchange of tariffs by the U.S. and China is prompting equities traders to reduce risk exposure significantly. For the first half hour of trade, the DJIA DOW (-500), S&P 500 SPX (-66), and NASDAQ (-241) have plunged dramatically.
At this point, trader hesitation stemming from a fresh round of tariffs is quickly escalating into a full-blown panic. With blue-chip stocks struggling to find any solid ground, the markets may be on the cusp of a broad-based correction.
Tariffs Have The DJIA On The Ropes
The key 25000 level is coming into view quickly for the DJIA. Values have already slid 500+ points and it appears that the next technical area up for trade will be the key psychological level of 25000.
Overview: As far as technical levels go, the big round numbers of 25500 and 25000 will be the key for this market. The daily trend is certainly bearish and it will take a period of consolidation near one of these areas before going long the DJIA will become a possibility.
On a side note, this week features a relatively wide-open U.S. economic calendar. In fact, there isn't a whole lot going on before Wednesday's Retail Sales release. Until then, market sentiment is going to hinge upon any U.S./China developments or further escalation of the trade war in general.