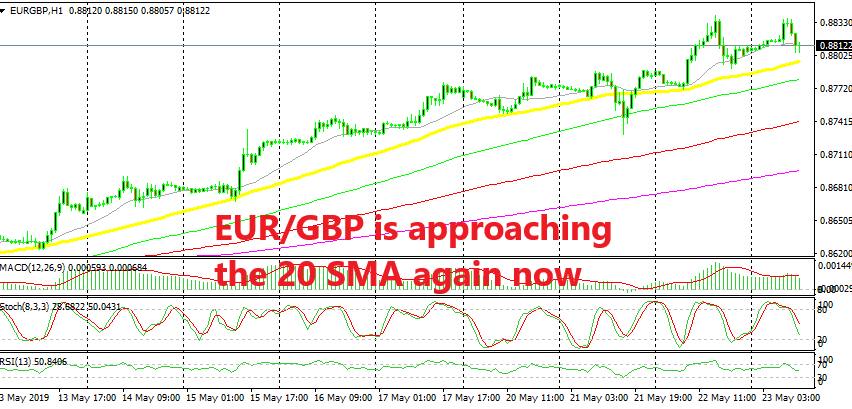 Getting Ready to Buy EUR/GBP as it Approaches the 50 SMA
Last week, we went long on EUR/GBP since this pair has been on a bullish trend, having climbed nearly 350 pips from the bottom. The uptrend has been perfect, with small pullbacks lower which have ended at the 50 MA (yellow) on the H1 chart as you can see above.
This moving average have been defining the trend during this period and we bought this pair at the 50 SMA last week. That trade went well as the uptrend stretched further to the upside. The failure to pass the Brexit deal in the UK Parliament is hurting the GBP pretty badly. That's the reason why the trend in this pair is so straightforward, and the 50 SMA is doing a great job in defining this trend.
The 20 SMA is pushing the trend higher on the H4 chart
Switching to the H4 chart, we see that here it is the 20 SMA (grey) which has been providing support and defining the trend during this climb. Today the price is retracing lower as the Euro turns even more bearish due to the deteriorating manufacturing activity.
But the price is still around 20 pips away from the 20 SMA, so we will wait a bit longer for the price to reach these 2 MAs on the H1 and H4 charts and then I will try to pick a trade on the long side, since the pullback would be complete.