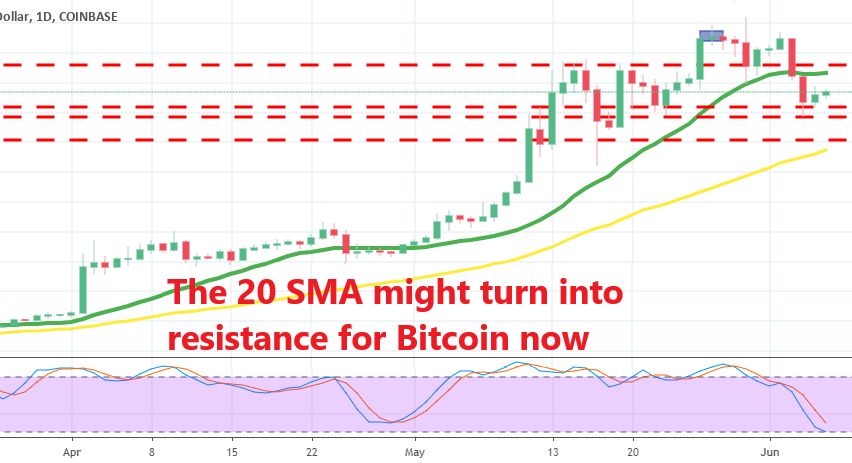 Will Bitcoin Resume the Bearish Trend or Will it Turn Bearish?
Cryptocurrencies have turned bullish this year, especially in the last two months, as Bitcoin has surged from below $4,000 to $9,000. Last year, digital currencies were extremely bearish, with Bitcoin declining from below $20,000 to above $3,000. In the previous year, they were extremely bullish, so the pattern seems to be one year up, and the next year down.
This year cryptocurrencies have turned bullish again so far but for now it is not sure whether Bitcoin will reach the highs of 2017. The price stalled at the $9,000 level and above that there is another bigger level at $10,000. That level provided some sort of support on the way down, but not as strong as some might have expected.
So, Bitcoin buyers will have to do some heavy work, pushing above the $10,000 level if they want to target the previous high at $20,000. But before that, Bitcoin buyers have to take out the 20 SMA (green) on the daily chart. This moving average provided support for Bitcoin on the way up at the end of April and then end of last month, pushing it higher.
Now, the risk for buyers is that it might turn into resistance. If the 20 SMA turns into resistance, then we'll probably see a decent pullback lower. So, you will have to watch the price action around the 20 SMA to see where Bitcoin will head to next.