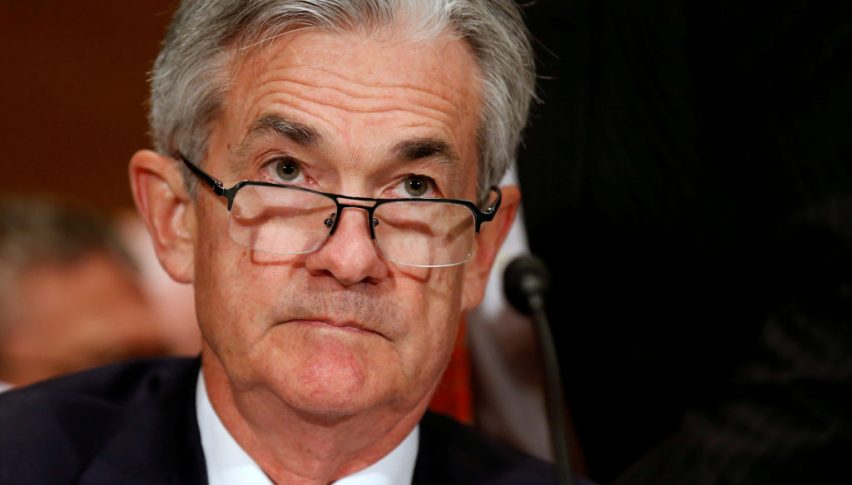 US Session Forex Brief, June 25 – Markets Remain Cautious Ahead of Powell and the G20 Meeting
The US Dollar weakness has been the name of the game since last Wednesday when the FED turned dovish as most traders were expecting. Odds for a rate cut in next month's meeting have gone up to nearly 100% which means a done deal. As a result, the USD turned pretty bearish last week which spilled into this week as we saw yesterday in the forex market. Some would argue that this is mostly a safe haven move, but for me it's mostly a USD move. Today though, the USD has stalled and it is even retracing some of the losses in certain pairs as the speech from FED's chairman Jerome Powell approaches.
Powell will hold a speech at 5 pm GMT this afternoon and I assume those traders who have been selling the USD in the last several days, are closing some of the trades and booking profit, just in case Powell doesn't sound as dovish as in Wednesday's meeting. Safe havens are on a bullish run indeed and we saw the latest move last night, after Donald Trump announced new sanctions on Iran, which won't have much impact to be honest. They are targeting deposits of top tier Iranian officials in the West, but I don't think Iranian officials are keeping their savings in Western banks. So, the price action has been pretty slow during the European session as markets wait for Powell as well as the G20 summit which will take place this weekend.
European Session
Trade teams Working on Trump-Xi Meeting, Says China – China's foreign ministry commented this morning saying that trade teams from US and China are working ahead of the meeting in the G20 summit this weekend. But, they had nothing to add on the phone call between Lighthizer and Liu He.
Brexit Deal is Dead for BoJo – The coming UK Prime Minister Boris Johnson said earlier today that the current Brexit deal is dead. He plans to only keep some parts of the current withdrawal agreement, the challenge in parliament is to get Brexit done. BoJo promises no hard border in Ireland since there are other techniques to check goods at the Irish border. He added that the 31st of October is "do or die" date for Brexit. UK must negotiate new Brexit withdrawal agreement for BoJo, UK should come out of the EU with a 'standstill' deal. Leaving on WTO terms is "Plan C", but need to be prepared for it.
Iran Is Standing in Its Position – Iran's economy minister reacted to US sanctions saying that Iran is fully prepared to tackle US sanctions but will not reveal its plans. Iranian president, Hassan Rouhani, also said that the US policy towards Tehran displays Trump administration's 'despair'. He called the White House 'mentally retarded', Iran is practicing strategic patience but has no fear. The US is lying about wanting a dialogue and new sanctions prove that and warned that Iran airspace is a red line.
UK CBI Realized Sales – The CBI retailing indicator turned negative in March, falling to -17 points, although it reversed again in April coming at 13 points. Although, that jump was attributed to the Easter weekend back then because this indicator turned negative again in May, falling to -23 points. Today's number was expected to fall flat at 0 points, but we saw a bigger decline to -42 points.
US Session
Canadian Wholesale Sales – Wholesale sales have turned positive since last December and they have been impressive, beating expectations in the last four months. Today's report was for April and sales were expected to show a 0.2% increase, down from 1.4% in March, but they beat expectations fair and square, showing a 1.7% increase for that month.
Philly FED Manufacturing Index – The Philly FED manufacturing index has been weakening and this month it fell to 8.2 points from 17.3 points in May. Firm level business activity index fell to 12.2 points in June versus 28.1 in May, average workweek fell to 18.9 points versus 24.9 in May, but wages and benefits increased to 43.6 points form 30.9 in May and full time employment index also rose to 23.8 points from 20.5 points in May.
US CB Consumer Confidence – The US CB consumer confidence report came out petty weak for this month, declining to 121.5 points against 131 points expected and down from 1354.1 points in May. Last month's number was revised lower as well to 131.3 points form 134.1. Present situation also fell to 162.6 points from 175.2 prior which was also revised lower to 107.7 points. Expectations fell to 94.1 points from 106.6 in May (revised to 105.0). At least, 1-year inflation expectations increased to 5.1% vs 4.6% prior and jobs hard-to-get also move higher to 16.4 points against 11.8 previously.
The pullback higher is over
Previous support turned into resistance
The previous candlestick is a reversing signal
Fundamentals are bearish for this pair
The pullback ended at the previous support
EUR/CHF has been on a bearish trend for quite some time and the downtrend has picked up pace recently as global tensions increase. Today we saw a retrace higher to 1.1120s as fears of a possible intervention from the SNB creep up, but the previous support at this level seems to have turned into resistance for this pair now. The previous H4 candlestick closed as a doji which is a reversing signal and now we are seeing this pair turn bearish again.
In Conclusion
The geopolitical tensions are likely to increase as US placed new sanctions on Iran, which won't hurt anyone too much I assume, but are enough to put an end to whatever diplomacy there was left between two countries. I don't expect much from Trump-Xi meeting in the G20 summit and China sounded cautious today, but let's not try and predict the future, or is it our job to do so in forex?
The USD is feeling weak again as jobless claims came above expectations, confirming that the employment sector is feeling the pressure
2 months ago
Today the situation has reversed completely as Credit Suisse is showing difficulties, which has hurt risk sentiment
3 months ago