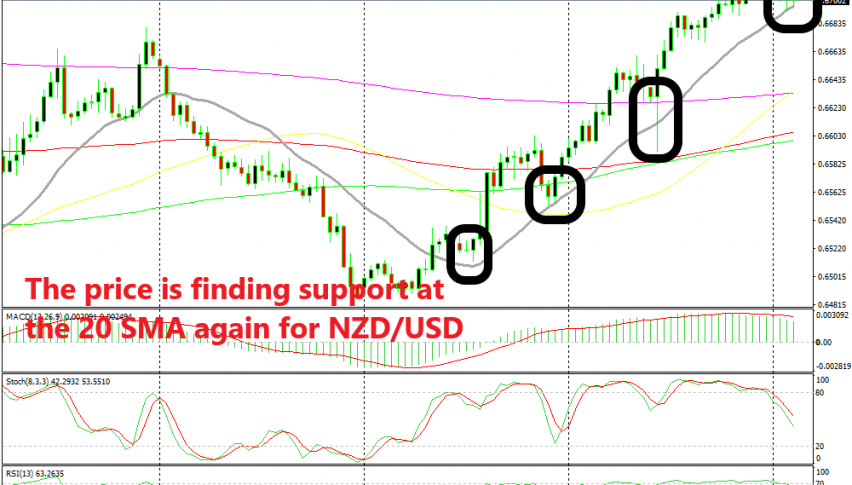 Buying the Pullback in NZD/USD at the 20 SMA
NZD/USD has been quite bearish for more than a year, but last month it turned bullish, especially in the second half of the month, after the FED turned dovish in the last meeting and the USD turned bearish. The Reserve Bank of New Zealand cut interest rates in the last meeting, which goes in favour of the NZD since this risk factor is out of the way for the Kiwi now, unlike for other major currencies like the AUD, the Euro and the USD which now expect a rate cut soon from their respective central banks.
So, the Kiwi has turned bullish now and the uptrend has been quite straightforward in this pair in the last two weeks. The indicator which has been pushing this pair higher, thus defining the uptrend, has been the 20 SMA (grey) on the H4 time-frame chart. The 20 SMA used to provide resistance when the trend was bearish, now it has turned into support.
This moving average turned into support immediately after the break to the upside and it has done so in two other occasions when the price retraced lower. Right now we are seeing another retrace and the price is trading at the 20 SMA again, where it has been finding support during the European session.
We decided to go long on this pair a while ago and opened a buy signal, since the NZD has holding up against the USD better than other risk currencies this morning as the USD as the USD receives some nice bids after the G20 summit last weekend. Once the bidding on the USD is over, this pair will be the first to turn bullish, according to the price action we have seen in the last few weeks.