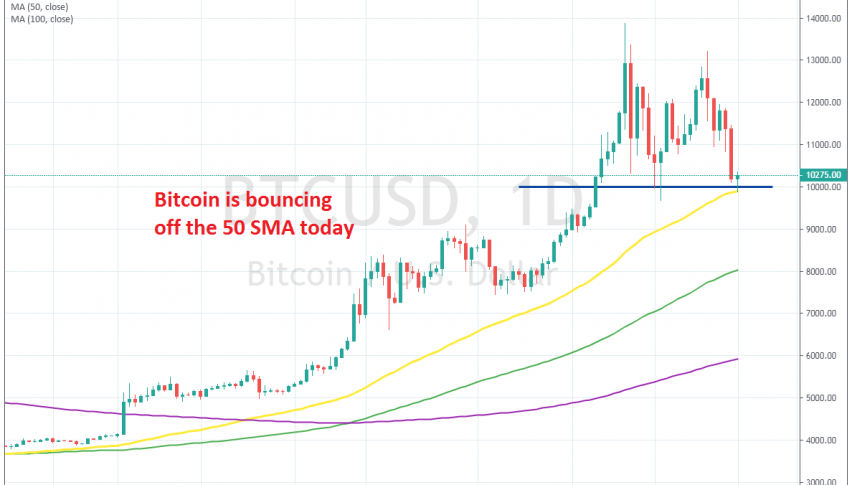 Bitcoin Heads for $10,000 and the 50 SMA Again
Cryptocurrencies turned quite bullish in Q2 of this year after consolidating during the Q1. 2017 was a great year for cryptos as they made a major surge that year, with BITCOIN shooting from around $3,000 to below $20,000, but in 2018 we saw a reversal and Bitcoin lost almost all gains made in 2017, as did other cryptocurrencies.
But the decline stopped in Q1 of this year and in Q2, cryptos turned really bullish again. At first, the bullish trend looked very naive, but then the big levels started giving up one after the other and the trend became more aggressive. The $6,000 level which held as support during most of 2018 was broken without much resistance, which was a strong sign that the buyers were serious.
Then we realized that Bitcoin was heading for the highs at $20,000 again when the $10,000 level also broke without any resistance whatsoever. Buyers pushed as high as $13,900 according to Coinbase and then retraced lower. It broke shortly below $10,000, but the buyers returned and pushed higher again to $13,200.
I thought the buyers were going to reach $15,000 this time and even break it. But another reversal came and now Bitcoin is heading for the $10,000 level again. The 50 SMA (yellow) is climbing and is now standing around $100 below $10,000 roughly speaking.
These two indicators would make for a strong support area around $10,000, which would also present a good opportunity to go long. but only if there is another reversal higher. The price slipped below the $10,000 briefly earlier today but it is bouncing off the 50 SMA after kissing it for a moment. So, we will see how the price reacts around here and the $10,00 level and if we get a reversing signal such as a doji or pin candlestick, then we might go long.