Bitcoin (BTC) Slips Below $10,000 – Facebook's Libra Faces Challenges
Posted Wednesday, July 17, 2019 by
Arslan Butt
• 2 min read
Just in the period of one week, the price of Bitcoin (BTC) has plunged from $13,200 to $9,684, with major cryptocurrency exchanges recording a 26.6% drop. The sell-off came within a period of seven days, after the market tested and failed to surpass the 61.8% Fibonacci retracement level around $14,000 psychological level.
The recent pullback of Bitcoin is widely considered to be a technical factor that was pushed by sellers who seized control of the market once the leading cryptocurrency went below key support levels at $11,000 and $10,700.
On the fundamental side, Facebook's Libra coin was one of the major reasons to trigger sharp buying in Bitcoin. Investors got into Bitcoin positions on speculations that there will be a massive use of cryptocurrencies once Facebook launches its cryptocurrency and uses it as a medium of exchange.
Lately, Senators including Republican John Kennedy displayed concerns about the Association forbidding individuals who hold certain political views, while N.J. Sen. Bob Menendez explained to the hearing with a list of logic why Facebook shouldn't be trusted.
Marcus was concise in his remarks reacting to charges of Facebook's privacy scandals and links to Russian interference into the 2016 election, concluding that the Facebook has had made mistakes in the past but has invested in several programs to fix these problems.
"It's pretty hard to trust you with a worldwide currency that you are setting up in Switzerland," retorted Senator Brown. "You're the only one with 2 billion people."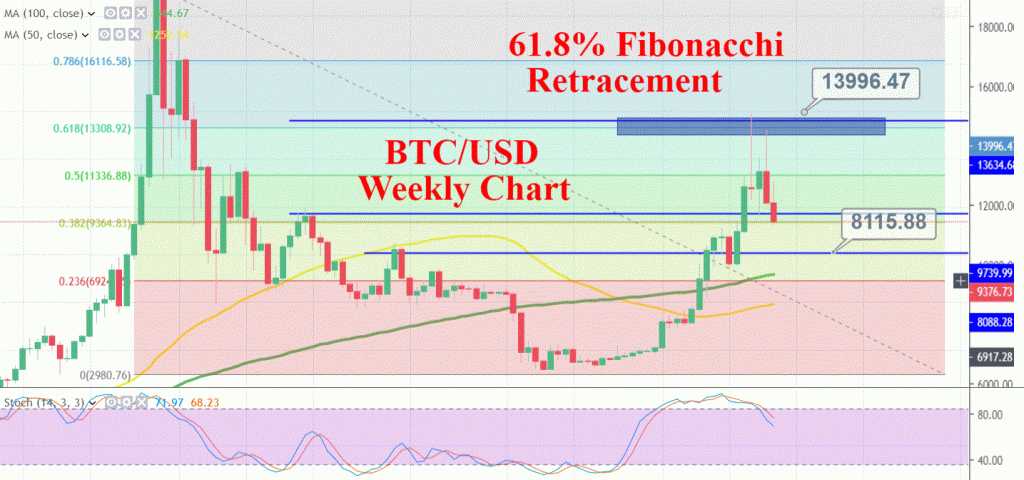 These discussions pose a real threat to Facebook's capacity for launching a cryptocurrency and investors are now selling off already purchased cryptos which they bought on the back of Libra's news.
BTC/USD – Technical Outlook
Support Resistance
9079.6 10542.27
8513.6 11438.94
7050.93 12901.61
Key Trading Level: 9976.27
On the technical front, BTC/USD has completed 61.8% Fibonacci retracement around 14,000 level, closing series of Doji and shooting star patterns on the weekly timeframe. All these suggest a strong bearish bias among investors. On the lower side, Bitcoin has the potential to go after $8,115 and $7,000.
On the upper side, $10,000 mark is likely to give a hard time to bulls. Let's stay bearish below this level for the targets discussed earlier.
Good luck!