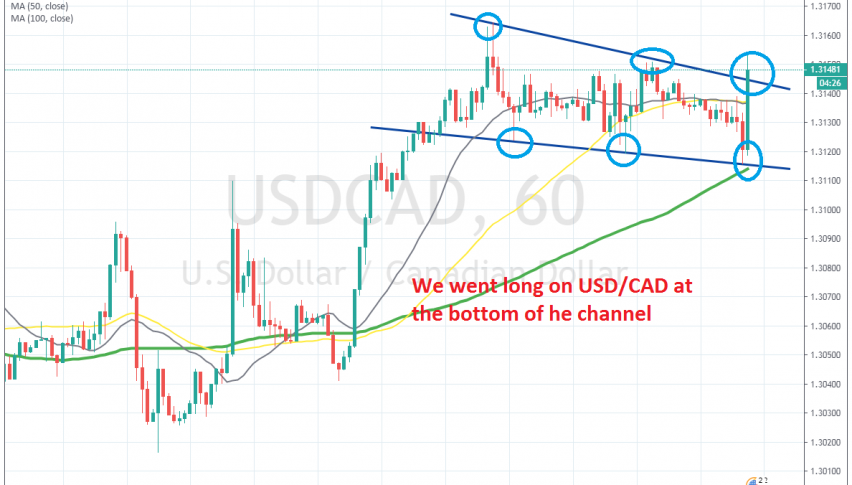 Picking the Bottom of the Range in USD/CAD
USD/CAD turned bullish at the beginning of this week, bouncing off the lows at 1.3020-50 and climbing to 1.3160s. In the last few days though, we have seen this pair consolidate and trade in a descending range which is around 40 pips wide, as seen on the H1 chart above.
Earlier today we saw the price pullback lower again after the US durable goods orders report, which was really positive, posting a 2.0% increase in headline durable goods orders, while core orders increased by 1.2% while expectation s were for a 0.2% increase. The USD should have rallied, but ECB's Mario Draghi was holding the press conference at the same time. he didn't give us a set date for rate cuts and EUR/USD surged around 50 pips higher.
Those bids went against the USD mainly, which sent the USD lower against other major currencies as well, hence the decline in USD/CAD. But, we decided to go long at the bottom line of the range and the price reversed off that line, helped by the 100 SMA (green) as well which was approaching. That trade/signal went well and we booked profit not long after opening the trade.
USD/CAD continues to slide lower, although it stalled to the bottom of the range earlier, after the dive on the 25 bps hike by the BOC
18 hours ago
Crude Oil has been bearish for more than a year, but this week we saw a decent reversal higher on higher Caixin manufacturing
5 days ago