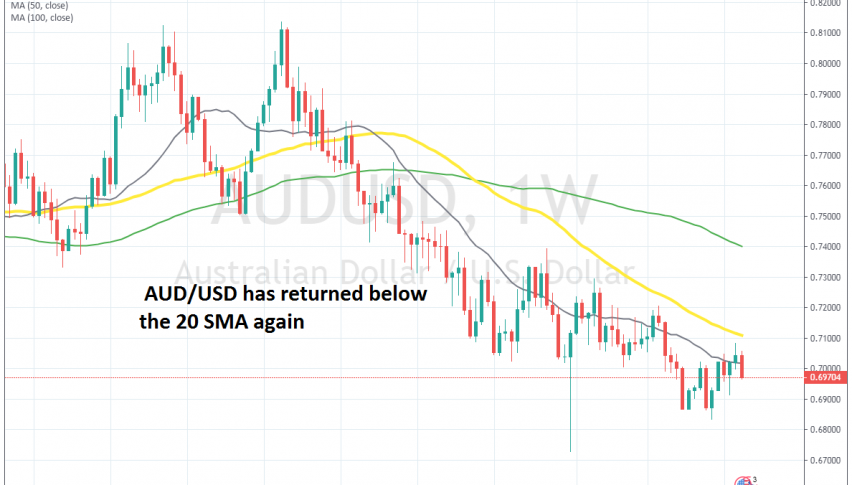 The Long-Term Bearish Trend Remains in AUD/USD as it Dives Below the 20 Weekly SMA Again
AUD/USD has been on a long term bearish trend since it turned down above 0.81 at the beginning of last year. During the first half of this downtrend, the pace was quite strong, as this pair dived more than 10 cents lower, falling close to 0.70. That level provided support for several months and this pair was forming a triangle on the weekly chart.
But the support was finally broken in May which confirmed that the bearish trend was still going. In the last two months, we have seen a pullback higher as the USD went through a period of weakness, following a number of weak economic reports from the US and the FED turning dovish.
But, the Aussie has no reason to turn bullish since the Australian economy is in a worse position and the Reserve Bank of Australia has turned much more dovish than the FED. The RBA cut interest rates twice in the last few months already and they will keep cutting if the FED does, as Governor Lowe said earlier today.
As a result, the retrace higher in AUD/USD ended and this week we are seeing a bearish reversal. Now the price has slipped below the 20 SMA again (grey) on the weekly chart, which puts the sellers back in control. In the coming weeks, I will look to sell pullbacks higher in this pair.
AUD/USD has been making strong gains this week, with the RBA helping the bullish case, but buyers are facing the 200 daily SMA now
2 days ago