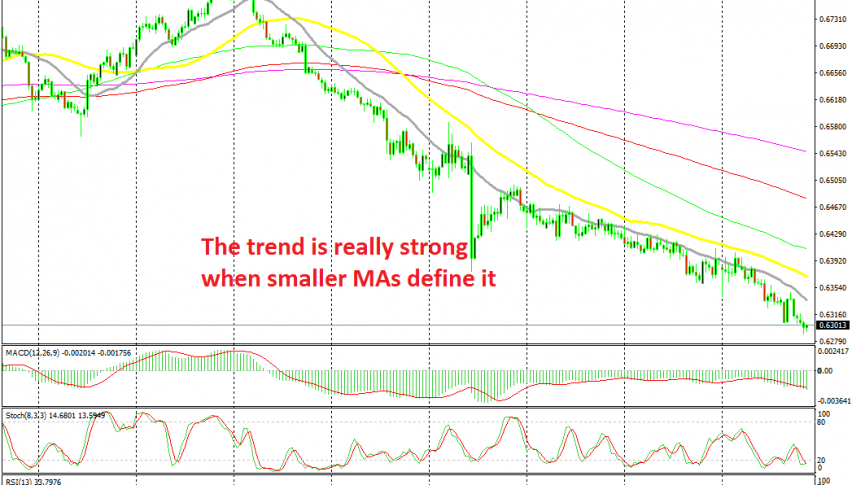 We Will Continue to Sell Commodity Dollars as They Remain Extremely Bearish
The risk sentiment has deteriorated considerably in financial markets during the last two months, especially after Donald Trump announced an increase in tariffs on China. Commodity dollars have been hit the hardest in forex, while safe havens have benefited the most, as is the case during such periods.
We haven't remained on the sidelines. We have been selling the commodity dollars continuously, especially AUD/USD and NZD/USD . They haven't disappointed us. We have waited for these pairs to retrace higher and then we have sold them against moving averages which have been doing a great job in providing resistance.
In the H1 chart, the larger period MAs have been providing resistance and reversed the price lower. On the H4 chart it is the 20- SMA (grey) which has defined the trend. This shows that the trend is really strong, especially when smaller period MAs set the trend. Right now, NZD/USD is retracing higher after making another round lower during the night.
We will wait until the retrace is complete on the H1 chart and then we will open another sell signal in this pair, probably against a moving average on that time-frame. Our sell signal in AUD/USD closed in profit overnight, so things have been going really well with this trade plan, which we will continue to use until the trend ends.
The Reserve Bank of New Zealand raised interest rates yet again early today
1 week ago