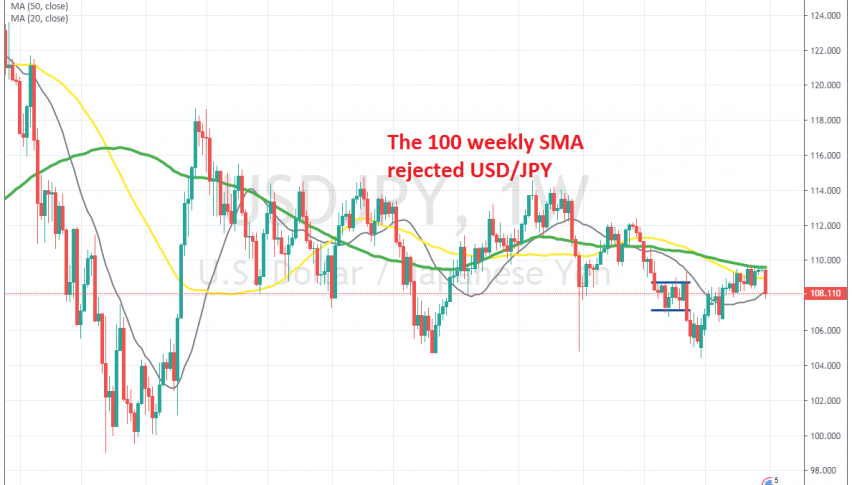 The 100 Weekly SMA Ended the Uptrend for USD/JPY
USD/JPY has been trading on a bullish trend since September, as the sentiment improved in financial markets. The trend had been bearish during 2019, with the trade war escalating and turning the attention to safe havens, but US and China softened their tones in September, and the prospect of the Phase One deal kept the sentiment positive since then.
USD/JPY climbed from around 104.50 in September to 109.60 in November. The 100 SMA rejected the price back then, although buyers returned after the Phase One deal between US and China was signed. They tried to push above the 100 SMA throughout December, but failed.
That was a sign that buyers were running out of steam. Last week, the USD turned pretty bearish while the JPY turned bullish, which turned this pair bearish again. The USD turned bearish after yet another contraction in US manufacturing activity, as the ISM report showed. The JPY turned bullish on Friday after the killing of Iranian top military leader Soleimani by the US, which turned the sentiment pretty negative immediately, on fears of another war in the Middle East.
Traders turned to safe havens for safety and USD/JPY lost around 150 pips in total last week. The global economy is in a difficult spot with growth being very anemic and it's still weakening. A war between the US and Iran would mean more trouble for investors and the sentiment would turn even more negative, which would mean further downside pressure for this pair.
So, there's a case here for sellers to make some nice profit, but none of the countries can handle a war right now. However, no one knows for sure, so we have to follow the news and be careful not to get caught on the wrong side when trading this pair.