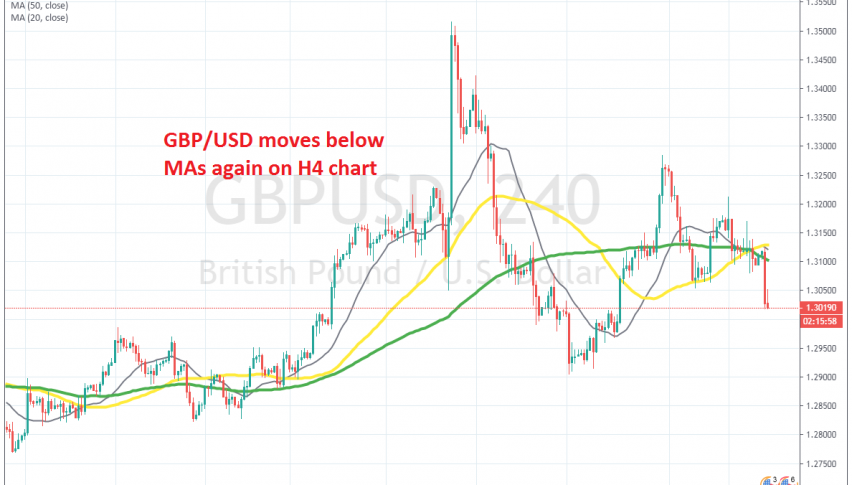 GBP/USD Slips Lower After BOE's Carney Doesn't Guarantee an Economic Rebound
The GBP has been uncertain what direction to take this year. We saw a surge in GBP/USD after the UK elections, which gave a clear majority to UK conservatives. But, it retreated lower after traders realized that Brexit will go ahead and a trade deal with the EU will still be pretty difficult to read, especially when the time left is only a year, which is not enough.
The price slipped below MAs yesterday on the H4 chart, but was hanging around there, uncertain what to do next. But, this pair made a bearish move just a while ago after the Bank of England governor delivered a speech, as below:
Rebound projected in BOE forecast for this year is not assured
UK economic growth has slowed below its potential
Global economy risks being trapped in a cycle of low rates, reducing policy space
MPC members are debating the merits of near-term stimulus
Limited space to cut bank rate would favour a relatively prompt response if evidence builds that weakness in activity could persist
Early indicators since the election suggest that there has been some reduction in Brexit-related and domestic policy uncertainties
Says that BOE has equivalent of 250 bps of policy space and that QE, forward guidance and rate cuts are all still part of its policy tools
Most of the comments here give away the dovish bias from the BOE. They were sort of neutral before elections, but the economy has weakened further despite Brexit uncertainties abating. I don't know what rebound they were forecasting, because there has been no signs of it, it's quite the opposite. Anyway, the GBP has declined, losing around 100 pips so far.