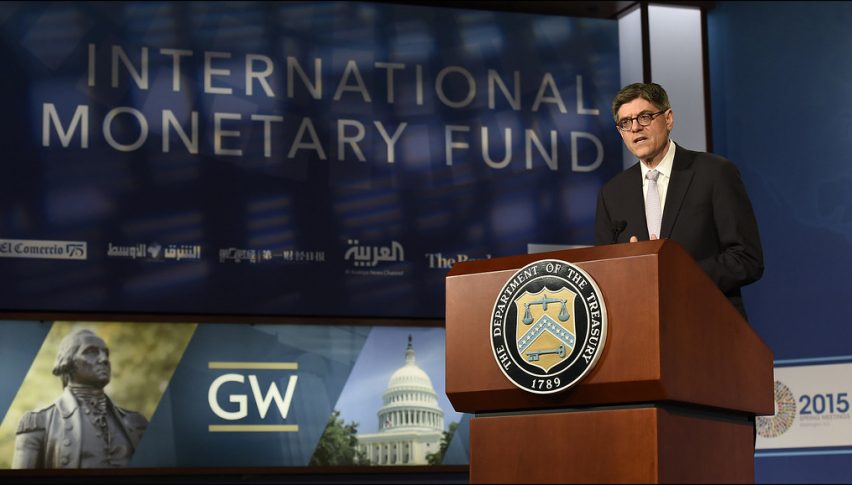 Forex Signals US Session Brief, Jan 20 – USD Advances Amid Closed US Markets, IMF Revises Global GDP Down
Financial markets have quietened down in recent days, after the tensions in the Middle East abated, following the hesitation from the US to strike back on Iran, after Iran attacked US military bases in Iraq, a bit more than a week ago. The WW3 was avoided; markets relaxed and have been in that mode since then. Today, the US is off for Martin Luther King Day, so markets have been pretty quiet once again.
The economic data was very light today as well, with only the German PPI inflation report being released int he European session, so no help from the economic calendar today. Although, the USD has continued to grind higher, after the bullish reversal last week. We heard some comments from the UK PM spokesperson, who said that UK will aim for a Canadian style trade deal with the EU, which could be done in a year and should have been good news for the GBP, and GBP/USD made a slight reversal after that. The IMF released their growth forecasts, which were revised lower, compared to October, which kept the risk off mood going.
The European Session
German PPI Inflation – The producer price index (PPI) inflation report was released this morning from Germany. PPI inflation declined by 0.2% ion October and fell flat at 0.0% in November, where  it was expected to remain for December. But, PPI beat expectations and increased by 0.1% last month. PPI YpY also came higher at -0.2% against -0.3% expected, up from -0.7% in November.

Iran Promises to Respect the Nuclear Deal  – Iran attacked US bases earlier this month, after a US drone killed Iran's top military leader Soleimani. Tensions increased, but now it seems that both sides don't want a confrontation. Iran's officials spoke earlier today on the nuclear deal and their comments sound positive:

Iran says that it still respects the JCPOA deal
Says that the claims made by the EU are unfounded
Criticises European powers for not fulfilling their obligations
Says EU resorting to dispute mechanism lacks legal value

Moody's Sees 1% GDP Growth in UK in 2020 –Moody's came out with some commentary about the UK economy this morning. Moody's expects UK economy to slow to 1% GDP growth this year. House price inflation will be flat, at ~0.8% for several years. Brexit challenges will continue to erode consumer confidence. That will also dampen housing activity in the UK
EU Also Urges China to Open Markets – The EU trade commissioner, Phil Hogan made some comments  in Brussels this morning, saying that China's market distortions pose 'serious challenge'. Urges China to make concrete progress on opening up its market and added that EU is still analyzing the US-China trade deal.
The US Session
UK Going For Canadian Type Trade Deal With EU – The UK PM spokesman said that there will be equivalence once we leave the EU, earlier today. UK government will set out in public what it wants to seek to achieve in a future partnership with the EU. We are seeking a Canada-style free trade agreement. There will be no alignment with EU rules.
IMF Revises Growth Lower –The global economy has been weakening considerably in the last couple of years, especially the major countries, most likely due to the US-China trade war. But, the monetary tightening of the previous few years has also had an impact on the economic weakness and IMF is now revising GDP growth lower.

2019 global GDP growth now seen at 2.9% from 3.0% previously
2020 global GDP growth unchanged at 3.3%
2021 global GDP growth now at 3.4% from 3.6%
2020 Eurozone GDP seen at 1.3% vs 1.4% in October due to manufacturing contraction in Germany
Boosts China 2020 GDP to 6.0% from 5.8% on trade deal
Cuts 2020 US GDP to 2.0% from 2.1%
UK forecast unchanged at 1.4%

IMF Commentary – The IMF revised the economic growth lower for the Eurozone and the whole globe and attributed the slight downwards revision to a sharper-than-expected anticipated slowdown in India.

Sees tentative signs that manufacturing and global trade are bottoming out
That is partially due to the US-China trade deal
Sees risks less tilted to the downside than in October
US-Iran tensions, social unrest and a flare-up in trade tensions are key concerns

2021 global growth forecast seen at 3.4% (3.6% previously)
US 2020 growth forecast seen at 2.0% (2.1% previously)
China 2020 growth forecast seen at 6.0% (5.8% previously)
Euro area 2020 growth forecast seen at 1.3% (1.4% previously)
UK 2020 growth forecast seen at 1.4% (unchanged)
India 2020 growth forecast seen at 5.8% (7.0% previously)
Trades in Sight
The retrace is over for AUD/USD
The main trend is bearish
MAs have turned into resistance
Fundamentals have turned bearish

The 200 SMA has turned into resistance now
AUD/USD has been on a bearish trend for a long time, as the trade war escalated between US and China in the last two years and the sentiment turned negative. But, the sentiment improved since October, as China and the US agreed on a partial trade deal, which was signed off earlier this month.
As a result, we have seen a decent pullback higher on this pair since October, which was fueled further by some year-end cash flows, which went against the USD. But, once 2020 was underway, the sentiment turned negative due to the escalation of tensions in the Middle East, after US killed Soleimani and Iran retaliated be attacking US bases in Iraq.
Risk assets turned bearish and the retrace higher on AUD/USD came to an end. The climb ended right at the 300 SMA (purple) on the daily chart. The price slipped below the 200 SMA (yellow) but found support at the 100 SMA (green). AUD/USD bounced off the 100 SMA, but the 200 SMA seems to have turned into resistance again now. So, the retrace is over now and the larger downtrend is resuming again, but sellers need top push below the 100 SMA now.
In Conclusion
Markets continue to remain relaxed and slow today as well, but the US being closed today has a part in it. The economic data from Europe was pretty light as well, so the price action has been slow all day and is expected to die down as European markets close. Although, the USD continues to make some slight gains.
Overnight we had the CPI consumer inflation report from Australia, with AUD/USD being on a bullish trend for a few months
1 week ago
EUR/USD is looking bullish once again as the sentiment turns positive and the USD turns bearish
4 weeks ago