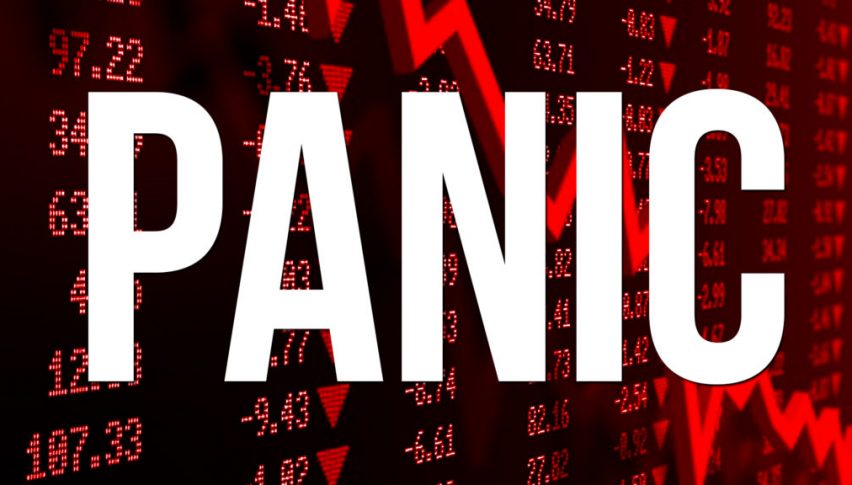 U.S. Markets In Turmoil As Saudi/Russia Price War Erupts
It has been a truly historic day on the U.S. markets, with panic selling dominating the news cycle. For the first time ever, a modern circuit breaker was thrown in the S&P 500. The S&P 500 SPX crashed 7% shortly after today's open forcing a market-wide 15-minute halt. When the action resumed, stock prices continued to fall before bouncing from session lows. 1997 marks the last time trade was halted and that was with respect to different rules.  
Key Drivers Of The Crash
Near the halfway point of the U.S. session, the DJIA DOW (-1649), S&P 500 SPX (-178), and NASDAQ (-450) are paring steep losses. Here is the crux of the situation:
Crude Oil:

On Sunday, WTI and Brent crude oil plunged by more than 20% each. The massive devaluation was due to a hot price war breaking out between Russia and Saudi Arabia. In response to Russia's refusal to cut production by

OPEC's

proposed 1.5 million bpd, Saudi Arabia pledged to boost output by 10 to 11 million bpd. The exchange has crushed oil values, with

April WTI

posting a session low beneath $30 per barrel.

COVID-19:

Several coronavirus developments worthy of note occurred over the weekend. First, the spread of the virus appears to be accelerating as is the public response. In the U.S., cruise ships are being quarantined, schools closed, and Senator Ted Cruz has "self-quarantined" after coming into contact with an infected individual. All in all, the COVID-19 panic is reaching a fevered pitch.

FED Mania:

The U.S. Federal Reserve is now expected to

cut rates by ¾ of a point

at next Wednesday's meeting. Analysts are interpreting the move as an act of desperation and a potential driver risk asset liquidations.
Right now, the U.S. stock and commodity markets are entering uncharted waters. All you can do as an active trader is look for premium trade locations and aggressively manage risk.
U.S. Stock Markets Feel The Heat
The collection of fundamentals outlined above has driven the March E-mini S&P 500 to a hard test of the 2800.00 psyche level. Going into late-day trade, this level will likely drive heavy two-way action.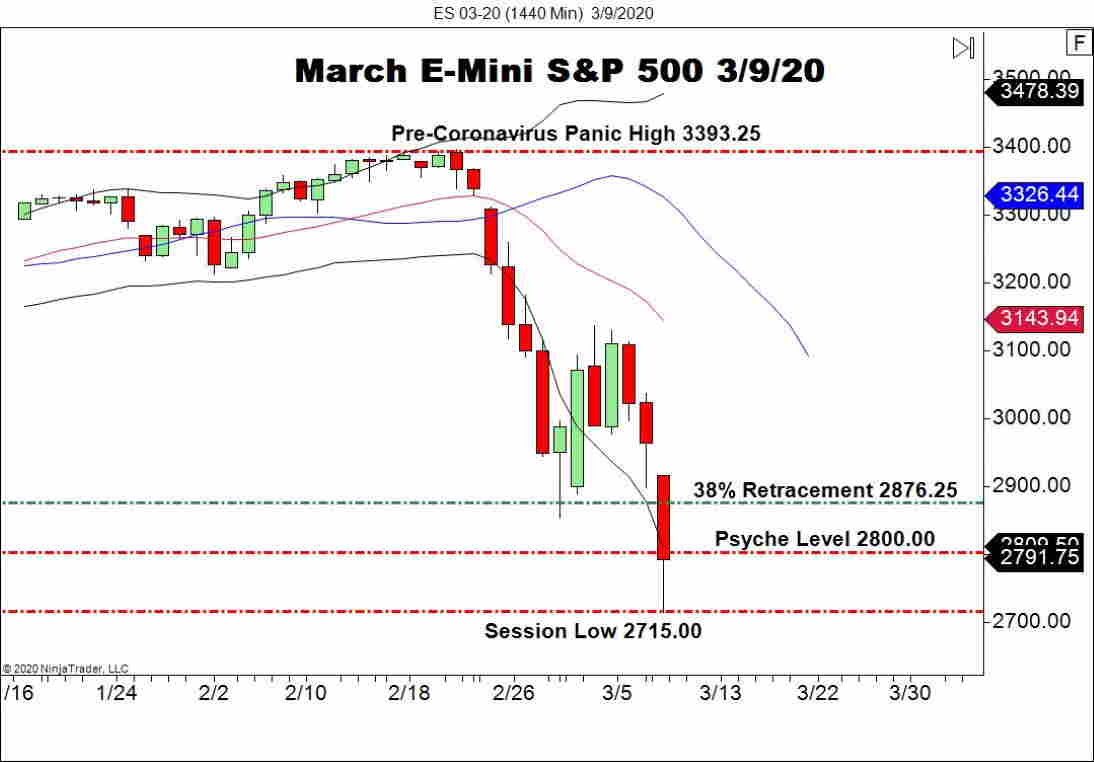 Bottom Line: At this juncture, it's anyone's guess how today is going to shape up. A downside bias is definitely warranted, but it is important to respect the potential for a hot late-day buyback. If such a scenario develops, selling the bump lends great trade location to the bear.
As long as 2715.00 is the bottom of the March E-mini S&P 500, I will have sell orders queued up from 2873.75. With an initial stop at 2885.75, this trade produces 96 ticks on a 1:2 risk vs reward ratio.
Safe havens such as Gold and the JPY have been taking advantage of the financial troubles with the ban king system and lower FED rate odds
2 days ago