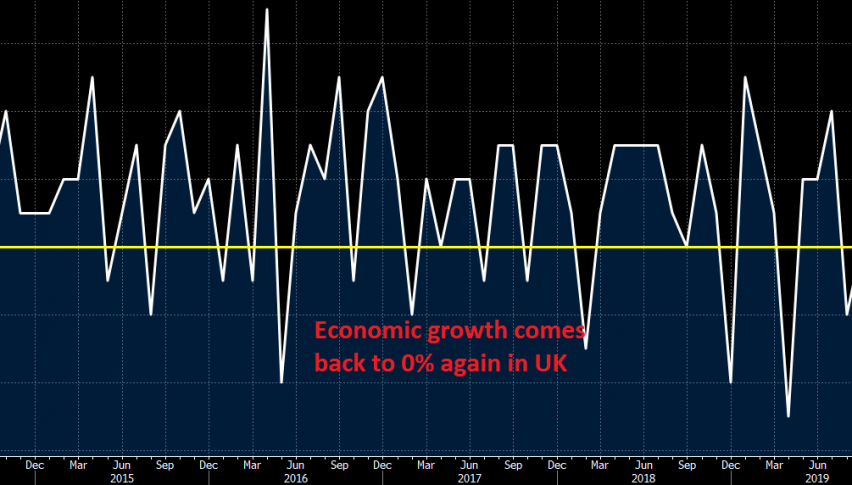 UK GDP Flatlines in January and Should Fall Into Contraction in Later Months
The UK economy slowed down considerably last year and in the last few months it fell into contraction, as the uncertainty surrounding Brexit kept investors out. But, we saw a rebound in December, after the elections in the UK, which produced a clear winner, Bojo, and set the direction for the UK out of EU. So, the sentiment improved as uncertainty declined and the economy expanded by 0.3% in December; but it seems like it is turning back down now. Below is the UK GDP report.
UK January GDP 0.0% vs +0.2% m/m expected
January stood at +0.3%
GDP 0.0% vs +0.1% 3m/3m expected
Prior +0.1%
The post-election bounce doesn't appear to be as great as expected but this hardly matters at this stage, particularly after the BOE action today. It is all about post-virus economic conditions now and the UK budget announcement later today.
Manufacturing production +0.2% vs +0.2% m/m expected
Prior +0.3%
Manufacturing production -3.6% vs -3.5% y/y expected
Prior -2.5%
Industrial production -0.1% vs +0.3% m/m expected
Prior +0.1%
Industrial production -2.9% vs -2.6% y/y expected
Prior -1.8%
Construction output -0.8% vs +0.1% m/m expected
Prior +0.4%
Construction output +1.6% vs +2.4% y/y expected
Prior +5.0%