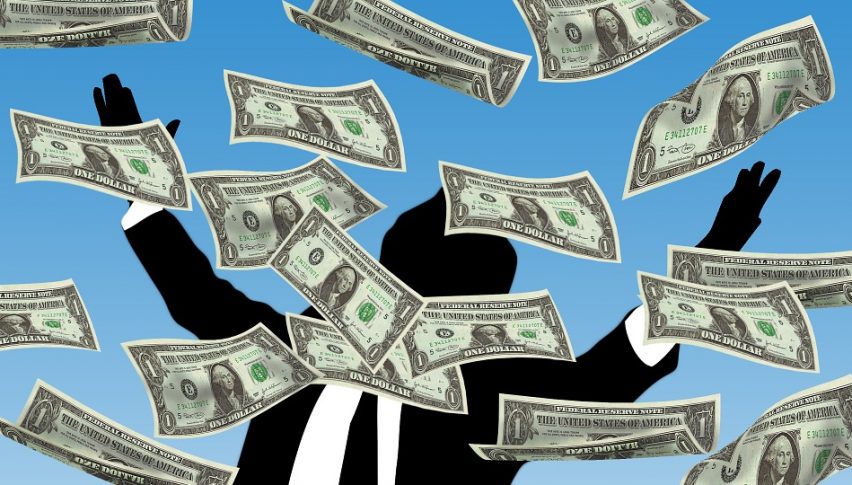 Forex Signals US Session Brief, March 13 – Central Banks and Governments Are Throwing the Kitchen Sink at the Economy, on Coronavirus Panic
In the last few weeks, the sentiment has turned immensely negative in financial markets, as coronavirus spread outside of East Asia. Central banks and governments are panicking now, losing their purses, closing borders and shutting down countries to stop the virus spread. That begs to question, wouldn't it work better if they closed their borders earlier, or if they just closed the border with China, like everyone until China brought the virus under control, which they have. By now, the coronavirus would be history if they sealed off China in early January.  
But, here we are, all isolated in our homes and now governments and central banks are throwing the kitchen sink into the economy. Central banks took further action today, to ensure liquidity and market calm. The BOJ stepped in with bond/ETF purchases, Norges Bank cutting rates, Riksbank providing funding measures and the PBOC also cutting RRR rates. The ECB increased QE yesterday, while today they promised to offer more if the situation worsens, while the EU is looking to start a fiscal programme. Nonetheless, the ECB is expecting the Eurozone economy to shrink by 0.1% this year, although no one can predict anything right now. If the virus spreads in Europe as it has done in Italy, then no one can really tell the end of this rabbit hole.
The European Session
ECB Members Promising to Do More – The European Central Bank held interest rates unchanged yesterday, with deposit rates at -0.50% and refi rates at 0.0%. But, they added to the QE programme, by 120 billion Euros/month and restarted LTROs. The considerable increase in QE turned the Euro quite bearish and EUR/USD fell around 300 pips yesterday from top to bottom. Today we are hearing ECB members say that yesterday's action wasn't all.


ECB's Visco Commenting

There will be more action if needed
Widening of spreads makes monetary policy transmission more difficult
Adds that the ECB can front load bond purchases if needed as well
Thursday decision was not the final word

Comments by ECB governing council member, Pablo Hernandez de Cos

ECB still has room to act, not at lower-bound
ECB could buy more Italian debt if necessary
QE rather than rate cut is the best response to the virus situation
But does not rule out rate cuts if situation worsens

Trump Says Virus Testing Will Happen Soon – The virus has spread in the US as well now and Donald Trump is putting the blame on Obama for not going ahead with the pandemic testing system, which he is right about. Trump tweeted earlier about this:    "For decades the @CDCgov looked at, and studied, its testing system, but did nothing about it. It would always be inadequate and slow for a large scale pandemic, but a pandemic would never happen, they hoped. President Obama made changes that only complicated things further.Their response to H1N1 Swine Flu was a full scale disaster, with thousands dying, and nothing meaningful done to fix the testing problem, until now. The changes have been made and testing will soon happen on a very large scale basis. All Red Tape has been cut, ready to go!"
Germany Is Finally Starting A Fiscal Programme – The European Central Bank (ECB) has been asking European governments (meaning the German one) to increase fiscal spending to fight the economic weakness coming from the trade war. Germans have refused, but now they have no choice. Germany's Scholz said earlier today:

Government will spend billions to cushion the economy
Government will give tax reliefs to companies, including deferrals
Will do credit programmes for companies, that will not have a limit

The World Goes into Shut-down – First it was China which shut large parts of the country down, then it was Italy, South Korea and Japan, now all European countries are starting to shut down parts too. Ireland officially announces closure of schools and limit mass gatherings due to coronavirus. Irish prime minister, Leo Varadkar, announced:

Schools, universities to be closed from this evening to 29 March
To limit mass gatherings and indoor gatherings
Shops, cafes can stay open but should look at how to operate social distancing
US Session
Second Package Coming Says Mnuchin – Mnuchin says the $8B coronavirus bill was the first inning and the one they're working on right now is the second inning. However the Senate went to recess yesterday so this is going to take until at least next week to get this one done. Trump earlier tweeted about a payroll tax cut but that doesn't appear to be on the table. It would be bizarre to give a bonus to people who are working at the expense of the people who are going to lose their incomes over this.

Comments from the Treasury Secretary

Banks should feel free to use the discount window
President is looking at a major stimulus package
We've announced about $200B of liquidity through delaying tax payments
This is a short-term issue, may be a couple of months
For long-term investors this will be a great investment opportunity
Whatever we can waive, we will waive — asked about 401K and IRA rules
People should understand that the numbers are going to go up before they go down
We want to make sure people will be able to get tested
Mnuchin says they intend to keep the market open, the circuit breakers are working
I heard there were some issues in off-the-run Treasuries, we're working on that
I heard about issues in commercial paper, we're working on that
More is coming to boost liquidity
Suspending payments on student debt for a few months is 'on our list of things' to bring to President
We are putting aside partisan issues to get things done, we will be passing more legislation

4-week average 1727K vs 1721.25K last week

Trump Tweeting on the Situation – The US President Donald Trump made some tweets a while ago about the situation regarding the spread of coronavirus:

Coronavirus Cases –


Country,
Other
Total
Cases
New
Cases
Total
Deaths
New
Deaths
Total
Recovered
Active
Cases
Serious,
Critical
Tot Cases/
1M pop
China
80,815
+22
3,177
+8
64,152
13,486
4,020
56.1
Italy
15,113
1,016
1,258
12,839
1,153
250.0
Iran
11,364
+1,289
514
+85
3,529
7,321
135.3
S. Korea
7,979
+110
71
+5
510
7,398
93
155.6
Spain
4,334
+1,188
122
+36
193
4,019
190
92.7
Germany
3,117
+372
7
+1
46
3,064
9
37.2
France
2,876
61
12
2,803
129
44.1
USA
1,832
+135
41
31
1,760
10
5.5
Switzerland
1,137
+269
9
+2
4
1,124
131.4
Norway
908
+108
1
1
906
27
167.5
Sweden
810
+123
1
1
808
2
80.2
Netherlands
804
+190
10
+5
2
792
1
46.9
Denmark
801
+127
1
800
2
138.3
UK
798
+208
10
18
770
20
11.8
Japan
701
+10
19
118
564
29
5.5
Diamond Princess
696
7
325
364
32
Belgium
559
+160
3
1
555
2
48.2
Austria
504
+143
1
6
497
1
56.0
Qatar
262
262
90.9
Bahrain
210
+13
44
166
1
123.4
Singapore
200
+13
97
103
11
34.2
Australia
199
+43
3
26
170
1
7.8
Malaysia
197
+39
32
165
4
6.1
Canada
158
+16
1
11
146
1
4.2
Finland
155
+46
1
154
28.0
Brazil
151
+74
151
2
0.7
Slovenia
141
+45
141
4
67.8
Hong Kong
132
+1
4
+1
77
51
4
17.6
Israel
126
+17
4
122
2
14.6
Czechia
120
+4
120
2
11.2
Greece
117
1
2
114
2
11.2
Iceland
117
117
Portugal
112
+34
1
111
1
11.0
Kuwait
100
+20
5
95
4
23.4
Trades in Sight
The main trend is bearish
The retrace up is complete
The 100 SMA acted as resistance
The EU will start a stimulus programme
EUR/JPY reversed at the 100 SMA earlier today
EUR/JPY has been bearish for a long time, since the Euro has been declining everywhere, as the Eurozone economy weakened last year. This year, the spread of coronavirus has hurt risk currencies further, while safe havens such as the JPY have gained pace. As a result, EUR/JPY made some strong bearish moves this month. But, we have seen two very decent pullbacks higher on the H4 chart, once last wek as EUR/USD surged higher for no reason and once this week, as the safe havens are retreating lower, also with no particular reason, because coronavirus hasn't matured yet.
Today we saw another bullish move in this pair, as USD/JPY is heading towards 108, but I think that this is just a dead cat bounce, because the virus is still spreading and governments are shutting down life one after another. But, the 100 SMA seems to be holding as resistance, so we decided to open a sell signal, just below that, targeting 107 and with a stop above last month's high.
In Conclusion
More countries are shutting down parts or the entire of their economies, but safe havens turned bearish suddenly. Many countries seem in panic now, apart from the UK where people are continuing life as usually and not even using some precautionary measures, like masks or gloves. But, the bounce in USD/JPY won't last too long I think.