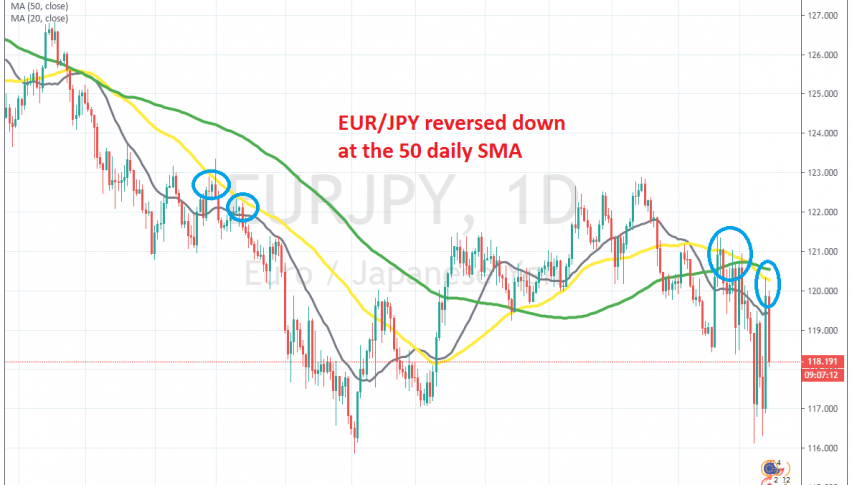 EUR/JPY Reversed at MAs Again, After the Short-Lived Pullback
EUR/JPY has been on a bearish trend for about two years, as the Euro dipped on a weakening Eurozone economy. In the last few months of the previous year, we saw a retrace higher in this pair and other risk assets, as the sentiment improved in financial markets, on hopes of a partial deal between US and China.
But, the sentiment turned massively bearish this year, especially after the outbreak of coronavirus, which is shutting down countries and will probably put the global economy in recession this year. As a result, EUR/JPY turned bearish again and this month we are seeing some increased volatility in both sides, although the downside players have the upper hand.
On Friday last week though, we saw a big move up, worth around 350 pips. But, since the sentiment is extremely negative, as stock markets show, and coronavirus is spreading fast in Europe, shutting down many countries, the climb was bound to end soon.
So, we decided to take a shot at the downside as well, opening a sell signal at the 20 SMA (grey) on the daily chart, hoping that it would provide resistance. But, it didn't. The retrace continued around 100 pips higher, although the larger MAs did a good job in stopping the climb. The climb ended at the 50 SMA (yellow), which has acted as resistance before on the daily chart and now sellers are back in control, We booked more than 100 pips profit from that signal.