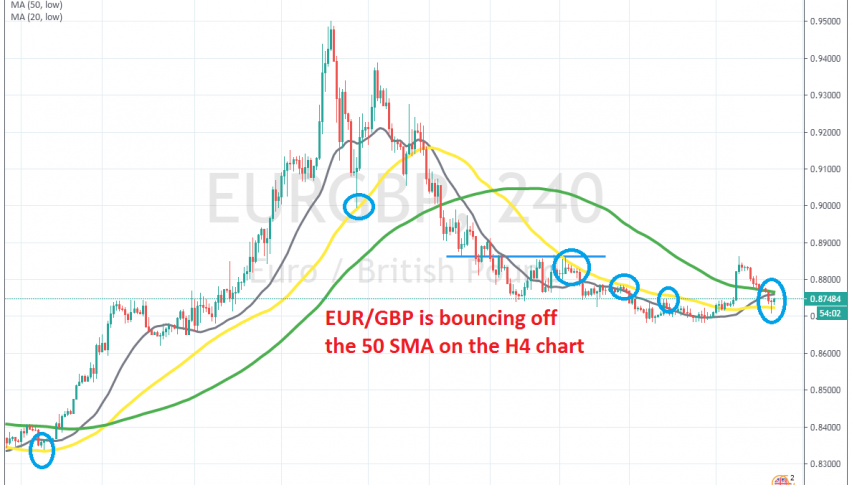 The Trend Might Be Shifting to Bullish in EUR/GBP, As the 50 SMA Turns Into Support
EUR/GBP turned quite bullish during late February and the first half of March, as the GBP crashed more than 18 cents lower due to coronavirus breakout in the UK. EUR/GBP climbed around 12 cents, reaching 0.95 by  the end of the month, but then reversed back down, when traders realized that the situation in the rest of the globe was going to be as bad as in UK.
As a result, this pair gave back nearly 8 cents and moving averages that used to provide support during the pullback, turned into resistance. These moving averages were the 20 SMA (grey), but most notably the 50 SMA (yellow). They kept pushing the price lower until Wednesday.
But, the GBP made a strong bearish move on Wednesday and this pair climbed around 150 pips. Some argued that this might have been a normal pullback higher before the next bearish move, which actually did come eventually, as EUR/GBP gave back almost all the gains.
But, the main trend is still bullish, since the lows from last week are around 4 cents higher than the lows back in January, while today's lows are still higher than last week's lows. Besides that, the 50 SMA has turned into support again now, with EUR/GBP bouncing off from it, after forming a pin candlestick on the H4 time-frame, which is a bullish reversing signal as well.
So, this chart points to a bullish reversal now and a continuation of the larger uptrend. We are thinking about opening a long term buy signal, but the situation with coronavirus in the UK currently seems worse than in any other Eurozone country, which might mean a later reopening of the economy. But, we might actually open a buy signal, just follow us at our signals section.